A Meat Free Alternative to an American Favorite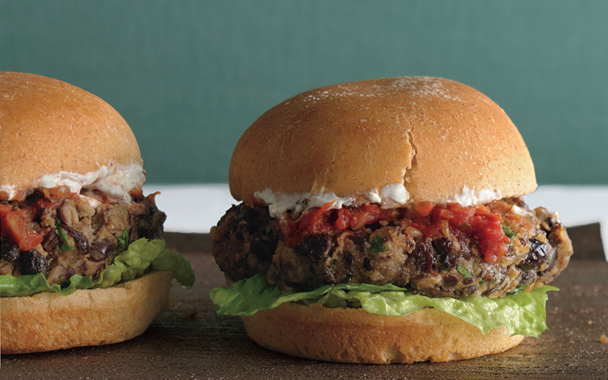 When making the black bean mixture, it's easiest to use a blender or a food processor for this, but a potato masher will do the trick as well.   These patties can be seasoned anyway you want, the spices I use are just my personal preference. Try a more Italian variation by adding fresh parsley, oregano, basil, and red pepper flakes, or go spicy Southwest with cumin, chili powder, roasted red pepper, jalapeños and corn. Top them with your favorite condiments and veggies.
Ingredients
1/2 medium onion, chopped
2-3 gloves garlic, chopped
1 14 oz. can of back beans, rinsed and drained (or about a cup and a half of soaked and simmers dried black beans, make sure they're very tender)
1 egg
1/2 tsp cumin
1/2 tsp paprika
1/8 tsp cayenne
1/4 cup bread crumbs
Olive oil
Salt & Pepper
Cheese
Hamburger Buns
Condiments and vegetables you'd use on a regular burger
Directions
Heat olive oil over medium heat in a frying pan. When hot, add onions and cook until soft. Add garlic and cook for another few minutes until onions are translucent. Remove from heat and place in mixing bowl along with half the beans, the spices, salt, pepper, and egg.  Combine, then pour the mixture into a food processor or blender. Pulse until smooth. Stop, taste and adjust seasoning. Add remaining beans and bread crumbs, pulse until just combined. Return to mixing bowl. Using your hands, shape the mix into four patties. Over medium-high heat, pour some oil in a frying pan or fire up the grill! Place the patties on hot oil and sear on one side, about 3 minutes, then flip, and sear on the other for another 3 minutes. Bring the heat down, add cheese if using, and cover, let cook for another minute or so until the cheese is melted.  Prepare the buns and vegetables. Take the burgers off the heat and serve!
|
Print