It's Not Just A Veggie, It's A Hearty Meal!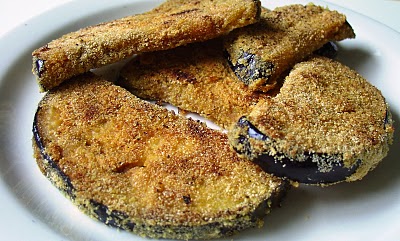 Fried eggplant is originally a Sicilian invention that gradually evolved into what we know as  Eggplant Parmesan . The flour and egg batter gives the thinly sliced eggplant a nice crunch while the inside remains creamy. A Spanish variation on this fried eggplant is to serve it as an appetizer/tapa or a side to any dish.  The  Spanish version calls for cutting the eggplant into thicker (about half inch) half-moons, follow the same directions below, then once they reach room temperature drizzle then with a little honey.
Recipe Serves 4
Serve with a Marinara Sauce and pasta, and you'll have mouth watering hearty meal!
Ingredients
1 medium sized eggplant, thinly sliced into medallions
4 eggs, beaten, seasoned with plenty of salt and pepper
1 1/2 cup all-purpose flour
Vegetable oil for frying
Directions
Pour about an inch of oil into a deep, heavy frying pan over high heat. Prepare a large plate lined with paper towels to place the fried eggplant on. When the oil is hot enough (that it splatters when you drop a single drop of water into it), take the slices of eggplant and dip them in the beaten eggs, then drudge each slice in the dry mixture of flour, salt and pepper-TWICE. Doing it twice will result in a thicker, crisper crust. When well-battered, insert gently into the oil. Make sure not to overcrowd the pan. Cook until brown on each side.  Remove with a slotted spoon and continue with the rest of the eggplant, letting the freshly fried pieces drain on paper towels. Serve with pasta and marinara sauce.
|
Print