Valentine's Day Tips from the Author of Love (Luv) n.
Intro by Brandi Savitt– February 9, 2010


Writer/performer Karen Porter Sorensen moved to New York City during the after shock of 9/11 and in the midst of her own personal crisis.  It was a strange, disjointed time to get to know the city, but Karen wanted to connect and reach out to people.  In an effort to heal, and help herself and others better understand how the search for love links humanity together, Karen dedicated herself to love research – yes, LOVE RESEARCH!  She set up her public booth on city streets and invited participants to answer questions about love in exchange for flowers, and people's true confessions started flowing…
To date, she has gotten responses from thousands of  people, and some of the most compelling stories have been captured in her new book LOVE (Lûv) n. available NOW at Barnes & Noble and Amazon -  just in time for Valentine's Day!  Read on to for Karen's tips on how to have a Fab & Fru Valentine's Day!
By Karen Porter Sorensen
Thinking about all the money spent on Valentine's Day is overwhelming, so this year I am going to do things a bit more economically.
According to an MSNBC report, Americans spent as much as $13.7 billion on Valentine's Day in 2006, up 22 percent from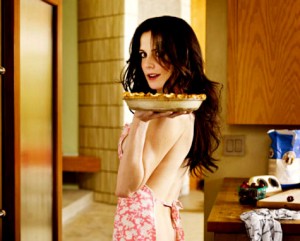 just five years ago.  Valentine's week sales account for more than five percent of annual chocolate sales, totaling $345 million. According to Hallmark, half of the U.S. population celebrates Valentine's Day by purchasing at least one greeting card.  That figures out to be around 180 million Valentine's Day cards exchanged annually, making it the second biggest holiday of the year next to Christmas.   Here are some big-hearted tips for those of you with small wallets!
Don't buy roses.  Give your beloved seeds instead.
Memorize a love poem to recite
Call a DJ, dedicate a love song
Skip the expensive concert.  Find a street musician and sit down with your lover for a free listen.
Invent a new term of endearment
Invent kisses
Pass on the box of chocolates.  Roll up your sleeves, and bake a homemade sweet.
Serenade someone
Make your own Valentines
Nix the fancy dinner.  Make a quiet candlelit dinner at home instead.
Write a love letter
Read famous love letters
Make your bed into a sacred space
Go on a blindfolded date
Don't give diamonds, give less costly rocks: turquoise, lapis lazuli, amber.
Make a baby (ok, maybe not so frugal in the long term)
Skip the dance club, find a street corner to tango.
Write a love poem on your underwear
Bake a pie in the nude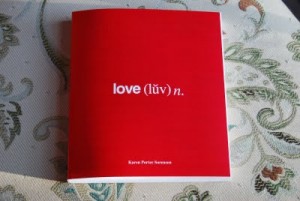 And, of course, giving the book Love (luv) n. is a Fab & Fru Valentine's gift anyone's significant other will appreciate…It's the one kind of Love you can actually buy!  Plus, it's full of great "Love Homework Assignments" which you can do alone or with a partner – so have fun doing your own love research!

|
Print