Transform Your Room With A Quickie
by Stephanie Berenbaum– February 8, 2010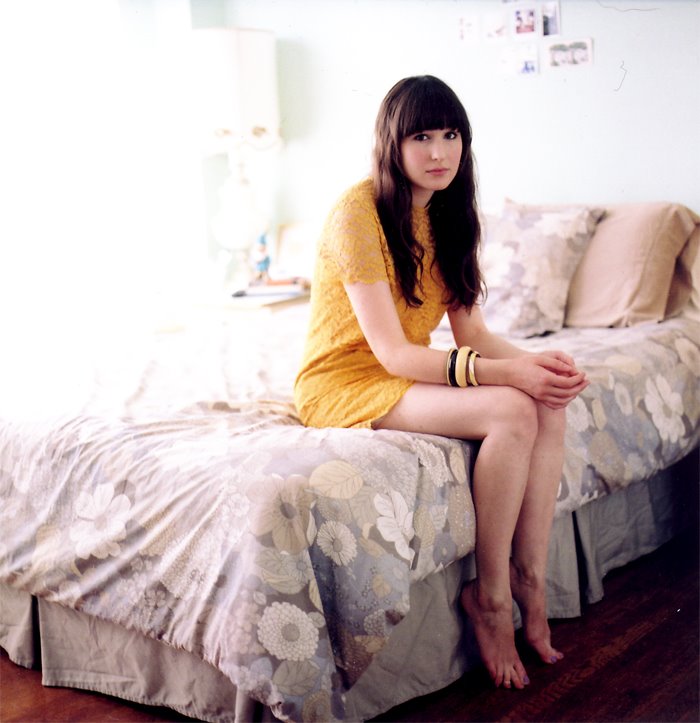 I don't know about you, but every year as winter lingers on a little too long, I get the itch to spruce up a room in my house.  It could be as simple as rearranging furniture or adding a splash of color to a wall, but even changing just one element can entirely transform a room!
With all the talk of romance this week, our focus is on the bedroom and the BED itself!  In just a couple of hours – and for practically nothing – you can turn your bedroom into a sanctuary by making your bed an inviting and peaceful Fab & Fru focal point.
Get A Move On It
You don't need a degree in Feng Shui to rearrange furniture and make your room feel like new! Even if you don't have the budget to purchase new things, just re-positioning your bed can update your room in an instant!
Skirting The Issue
Now that you've found a new spot for your bed, organize underneath it. The first step in any bedroom makeover is to clean up the clutter and put away the clothes. The space beneath your bed is not supposed to be used for gathering dust bunnies – so don't waste it!  Buy as many cheap, under-the-bed storage boxes as you can to maximize your use of space and organize.  To hide the storage and give the illusion of height, add a bed skirt to complete your look. A metal frame and visible storage boxes scream "college dorm" not "serene sanctuary", so be sure that any unsightly visuals are stylishly covered up.
Paint One Wall
We love the look of painting just one element of a room in a contrast color. Depending on your space, painting the wall behind your bed can be an inexpensive and colorful way to make that area special while punching up the whole look of the room!
Create A New Look With A Duvet Cover

If you're trying to save money, focus on what you can see and invest in a duvet cover to slip your comforter into. Besides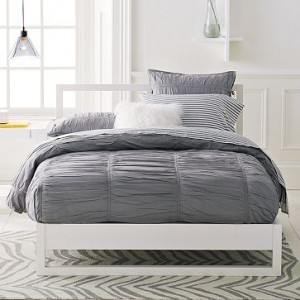 their washable practicality, a new duvet can completely change the feel of your room.  However, buying a new one can also be extremely expensive…
To cut your costs dramatically, invest in buying two beautiful top sheets in a color you love (they don't have to be expensive but do make sure they're the right size to fit your comforter), and hem the sheets on three sides. To keep it closed at the bottom, add buttons or adhere with 2-sided Velcro tape.  If you CAN'T IMAGINE ever sewing, take your sheets to the dry cleaner or the tailor.  Most tailors don't charge much at all for simple hems!
And if you can afford to splurge a little, West Elm has simple but elegant Queen size duvets for $99!
Alternative Headboard
Even though we love the look of a headboard, when space and money are at a premium, chances are a headboard is not at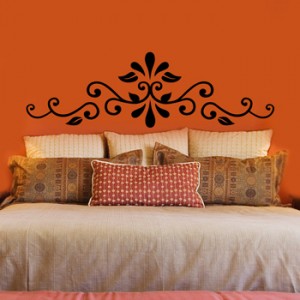 the top of your shopping list.  They can easily cost hundreds, if not thousands, of dollars…  No Problem! We love the wall sticker "headboards" from Dali Decals.  For about $55, you can add stylish flair to your room without a lot of money or fuss. Added bonus: they are easy to remove and inexpensive so next year you don't have to feel guilty about changing your look or buying a different sized bed.
Or try a photo finish! One of the easiest ways to update your room is to go through your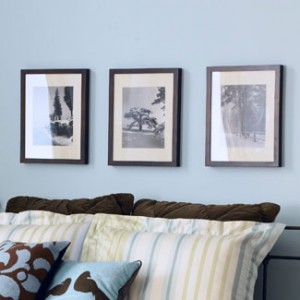 own photos and rotate new ones (keep the memories coming)! Hanging a framed photo that you love, or creating a collage of different size frames – instead of using a headboard- is a fabulous way to decorate and accentuate your new sanctuary. **And don't forget to make use of talented friends – Brandi and I both have framed photographs on display in our homes taken by my brother in law, Ian Rosenberg.  We all have that pal who is a Fab photographer or painter – we are sure they would be flattered if you wanted to hang a piece of their work in your home!
Pillow Talk
Add a couple big, square, decorative pillows behind the rumpled ones you sleep on.  If big enough, these can also mimic a headboard and give your room a pulled together look.  You can either pick out fun fabric or, as our own Claire Sheehan suggests, dig through your own collection of scarves and lonely buttons, etc. and make custom pillows that only look like they came from Anthropologie!
Accentuate With Texture
Unexpected texture can change the feel of a room.  Perhaps it's a shag rug creating an inviting pathway to your bed, a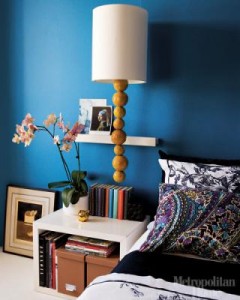 fringed pillow or nubby throw. Adding just one new textured piece can help you rock a whole new look.  Check out FLOR for modular flooring in many different textures that you can mix and match for a personalized look.
Scent
All of our designer friends tell us this and it's so true, scent is a design element too. Adding a diffuser of a new scent near your bed can help make it feel fresh and new, and instantly sets the mood…particularly for romance!
Even by making just one of these simple Fab & Fru design changes to your bed or the area around it, you can turn your bedroom from so-so into the sanctuary you deserve!
|
Print