How to Invest In Yourself – Without Spending a Dime!
By Andrea Moya and Stephanie Berenbaum- February 24, 2010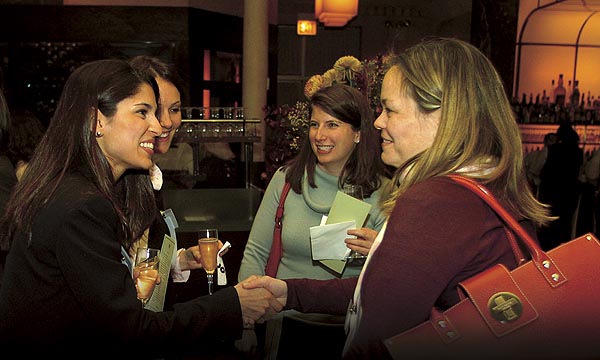 The other night I attended my first networking event – for what I hope will be my new career as a food writer.  I have to admit – I was completely unprepared! I wanted to come across like an exquisite, perfectly cooked Filet Mignon, but instead I ended up feeling like a deflated souffle! Under-dressed and noticeably nervous, I spent the cocktail hour glaring at my Blackberry and trying to look busy, all while typing messages to my friends that read: Help! What am I doing here?!
Become A People Person
Now, I know that networking and getting to know people in your field is an important part of advancing in your career (especially in this economy), but as I learned the other night,  it's so much EASIER SAID THAN DONE!  Not many people love playing the networking game, but at some point, everyone has to learn how to bite the bullet and introduce themselves at events.  Of course developing amazing people skills takes practice, but the good news is that honing your skills is FREE!  So many people are finding themselves unemployed and needing to network not only to make a career change, but also to find a job within their current industry .  No matter which category you fall into, we can all learn something from my missteps…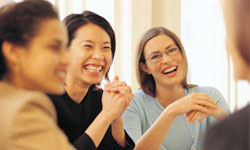 I spent much of the evening kicking myself for not taking a cue from my boyfriend, a sound designer who is a master business card hustler. Since he's decided to freelance, I've watched him change how he dresses, behaves, even how he answers his phone. And it works! So here's what I've learned so far about networking, from my beau as well as from my own experience (or lack thereof) the other night!
Dress To Impress
When I walked through the glass doors of the venue, I felt as if I showed up to a performance of the Philharmonic dressed like I was going to a rock show on a college campus. While it seems obvious, looking good and feeling comfortable with what you're wearing makes a huge difference in how you carry yourself and approach people. This doesn't mean you have to wear a dress and heels every time you go to an event. However, a dressy shirt, nice shoes, black pants, and a stylish bag (big enough to hold a notepad, a pen, some make-up, and of course DONT FORGET your business cards) will get you through.
You don't have to spend a million bucks to look like a million bucks – Target and H&M both carry cute, affordable, office-ready apparel. Feeling comfortable in your skin will make a big difference when going up to a complete stranger and engaging them in conversation.  We've all heard it time and time again, and it's true: First Impressions are EVERYTHING!  Your physical presentation does matter so take pride in how look and what your wear!
|
Print
Pages: 1 2