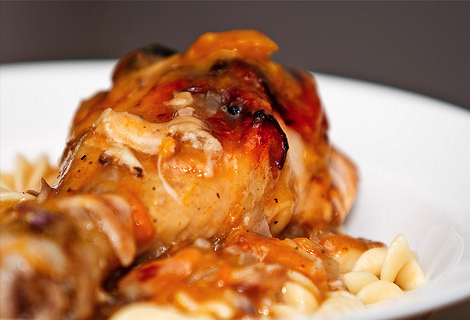 This Spring Chicken dish is a Passover classic.  There are a ton of variations, some more involved than others.  This is my favorite – I make it with a lot of sauce so the chicken ends up also sort of braising as it is roasting.  And it always tastes better when made the night before so the flavors really soak in!
Preheat oven to 350 degrees
Ingredients:
Whole chicken cut into pieces, plus several more pieces (depends on pan size)

1 Jar apricot preserves (12 ounces)

1 Bottle Wish Bone Russian dressing
1 Onion cut up
Garlic Powder

Salt
Pepper

Rub the chicken pieces with a mixture of salt, pepper and garlic powder. Mix a jar of apricot preserves with a bottle of Russian dressing. Dice up an onion and mix it in, and pour mixture over chicken.  Bake at 350 degrees for about an hour or until done. I like this recipe best when the chicken is left on the bone with the skin,  but you can also do it with boneless, skinless chicken breast. If you do boneless, be sure to cover it when you cook it so it doesn't dry out!
|
Print