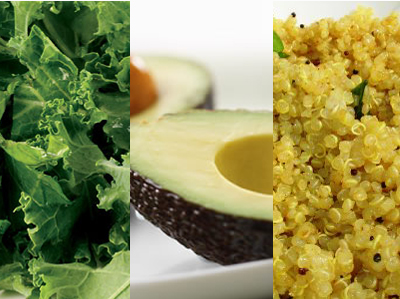 Serves 4
This 3 Part Salad can be served as an appetizer or a complete vegetarian meal.  It's healthy, delicious and packed with inexpensive veggie protein & fiber!
Ingredients:
1 Bunch of Kale
1 Lemon
Olive Oil
Sea Salt
Ground Pepper
1 Avocado
1 cup Quinoa
1 Garlic Glove
1 tsp. Curry Powder
¼ cup Dried Cranberries or Currents (optional)
2 Chopped Scallions
¼ cup Almond or Cashew Bits
Quinoa
*Rinse quinoa before cooking to remove its natural residue.  Note: quinoa cooks like rice (when fully cooked, the grain will look like fluffy spirals and there should be no remaining liquid)
Boil 2 cups salted water
Finely chop 1 garlic clove and add to boiling water with quinoa
Stir in curry powder
Add 1cup quinoa, reduce heat to simmer and cover pot
Check ever few minutes to avoid burning
If desired, when there is just a little liquid remaining, add the dried fruit and continue cooking until all the water is absorbed
Once the quinoa is fully cooked, remove from heat and stir in chopped scallions and crushed nuts.
Squeeze a ½ a lemon over the quinoa and stir
Set aside until ready to serve
Kale
As the quinoa cooks, prepare kale
Wash kale and dry it well
Use kitchen scissors or a chopping knife and cut kale into ¼ inch wide ribbons.  Then chop ribbons in half.
Gently pour a healthy drizzle of olive oil (about ¼ cup) over the greens and squeeze in a ½ lemon too. Massage greens with your fingers until tender.  (The kale will turn a bright dark green and the amount of kale will shrink as if it were cooked).
Add a dash or two of sea salt & ground pepper then toss together
Slice 1 avocado
Serve by scooping a 1/4 cup or so of quinoa onto a plate.  Place a healthy portion of kale next to it, and garnish with a few slices of avocado to complete the trifecta!

|
Print