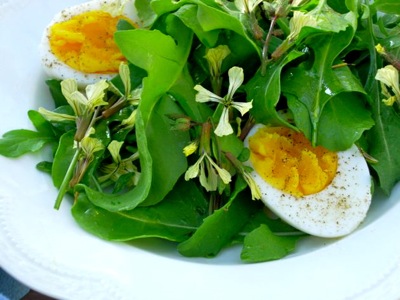 Of course both Passover & Easter fall in spring, so the greens of a fresh salad fit right in on your Passover table or at your Easter brunch.  Instead of going out and spending a ton on a million different ingredients,  a simple tasty salad is the best way to go.  Eggs are very symbolic on the Passover table as well as in the Easter tradition, so use hard boiled eggs as the focal point of this salad, and you won't need a bunch of pricey ingredients!
Ingredients

2 Different Heads of Lettuce (washed)

2-3 Hard Boiled Eggs
Vinaigrette Dressing

Salt & Pepper
Make sure to combine lettuces with differing textures (like romaine mixed with arugula or iceberg). This is important both for texture and appearance – you can chop iceberg and tear romaine to make a more interesting look.  All I do is toss the lettuce with a simple vinaigrette and top with sliced hard boiled egg – voila!  A simple, inexpensive salad that incorporates a symbolic holiday food – done!
|
Print