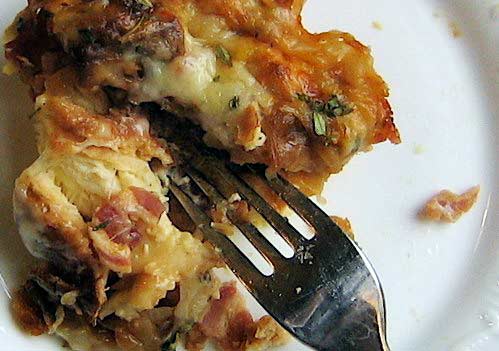 For some reason, I did not discover strata until about five years ago when my mother made it for brunch during a weekend long family reunion.   Unbelievably scrumptious, inexpensive, and easy to make, strata is conveniently prepared (mostly) the night before and is perfect for serving large groups of people!
The key to making strata is to use a hard chewy crusted bread like French or Sourdough.  The variations of strata are limited only by one's imagination, but my mother's friend Randee makes a cheese, ham and mushroom strata that is to die for!
12 Slices of French or Sourdough Bread
1 1/2 Sticks of Butter
1 Small Onion
1 Cup Fresh Cap Mushrooms Sliced
2 Tbs Olive Oil
1 1/2 Cups of Shredded Gruyere Cheese (approx 1/2 lb)
6-8 Slices of thinly sliced ham
7 Eggs
3 Cups of Milk
3/4 tsp of Dried Mustard
Salt
Pepper

1 1/2 Cups of Cornflakes
Butter a 9×13 casserole dish.  Chop the onion and sauté with the sliced mushrooms until brown.  While that is cooking, lightly butter each slice of bread on both side.  Line the bottom of the casserole dish with bread.  Layer the ham, cheese and mushrooms & onions.  Cover with the remaining bread slices.
Whip together the 7 eggs and three cups of milk,  3/4 teaspoon of dry mustard, and salt & pepper to taste.  Pour the egg mixture over the ingredients in the casserole dish, cover and place in the refrigerator over night so the bread can completely absorb the egg mixture.
The next morning, pre-heat the oven to 350 degrees. Before baking, mix 1 1/2 cups crushed corn flakes mixed with 1/2 cup of melted butter and sprinkle on top of the casserole.
Bake at 350  for one hour.  Let cool and serve!
|
Print