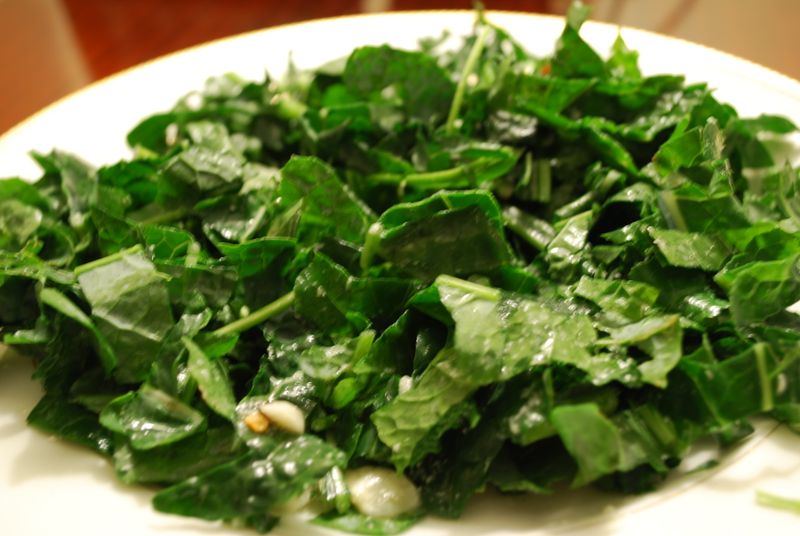 Raw Kale Salad — I know it doesn't sound as indulgent as chocolate cake or baked brie (both of which I love, don't get me wrong) but lately I just can't get enough kale.  Maybe it's because for so long I avoided it at the supermarket.  Sure, I always heard how healthy it was for you, but I just couldn't figure out what to do with it. Cook it? Eat it raw?  It seemed like something you'd only order in a health food restaurant.  One day at the supermarket – you guessed it – kale was on sale.  I bought it, loved it, and haven't turned back since!  I sort of feel like Popeye and his spinach – I feel so good when I eat it I wish I had been turned on to this superfood long ago. Anyhoo, with St. Patrick's Day upon us, of course we're featuring some of our favorite green foods. My favorite salad of late involves kale – raw kale. It's delish, I swear.  Try this out for an alternative to the same old boring mixed greens!
Ingredients:
1 Bunch Lacinato Kale
1 Bunch Red Leaf Lettuce (or any other mild lettuce you like)
Parmesan cheese
Lemons
Olive oil
Salt and Pepper
Just rip up the red leaf lettuce in to pieces and roll the kale to cut into ribbons. Drizzle with olive oil and squeeze lemon to taste over it, and mix in freshly grated Parmesan (as much as you like). Season with salt and pepper, give it a mix, and voila! A healthy treat sure to make you feel like a green goddess.  The kale is thick and hearty, giving this salad a texture and crunch totally different from run of the mill mixed greens.
|
Print