by Stephanie Berenbaum – April 1, 2010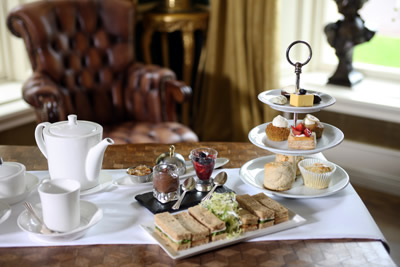 Invite Your Friends to a DIY High Tea Party
With all due respect to the "Tea Party Express",  I've been thinking a lot about the old-fashioned kind of tea party – one not involving politics!  Each year for my birthday, one of my favorite splurges is to go to the Hotel Bel-Air with a few girlfriends for a high tea birthday celebration.  The scrumptious finger sandwiches, delightful pastries and of course warm, fragrant tea always makes me feel like a proper lady – at least for a few hours!  But of course this kind of luxury comes with a price tag – high tea at some of the tonier LA spots can run you upwards of $60-$100 – per person!
It got me thinking – sure my living room isn't quite as luxurious as the Bel-Air, but then again I'm pretty sure I could make some fabulous tiny bites and tea for my friends – for a fraction of the cost of going out!   Plus, hosting an at home tea party is the perfect excuse to use all that china you got for your wedding and now wonder why you registered for any of it…  And if you do not have unused piles of wedding china laying around – you MUST check out the Liberty of London Tea Set at Target.  No one would guess you didn't inherit them from great Auntie Maude, really!
So here's is a Fab & Fru rundown on some of my favorite teatime favorites — and their D.I.Y. cost.
Finger Sandwiches
These bites of goodness are my favorite part of the tea culinary experience.  The foundation of any perfect finger sandwich is to use very thin bread.  My sister and I grew up addicted to Pepperidge Farm Very Thin White Bread, and if you can find it, we love to use it for tea sandwiches.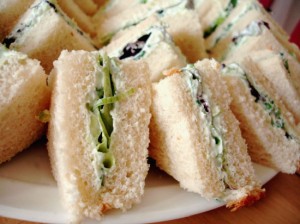 Also convenient are the Rubischlager mini breads.  You just need to be a sandwich surgeon and carefully cut off crusts and slice away into small triangles, rectangles or squares.
Though some tea sandwiches include pricier ingredients like salmon, chicken and lamb, we suggest sticking to less expensive ingredients that are just as elegant and delish!
Classic Cucumber Sandwiches cost almost nothing and are the epitome of elegant eating – just thinly slice a cucumber, spread bread with cream cheese mixed with herbs of your choice and sprinkle with a bit of salt– that's it!
Egg Salad Sandwiches – The egg – so affordable, so versatile, so…elegant?  Yes – all you need to do is hard boil a couple, chop them up, mix in some mayo, salt, pepper and dill, then spread it on some thinly sliced rye or pumpernickel bread with a small piece of very crisp lettuce!
Butter And…  Sandwiches – Another of my favorites…  It may not sound mouthwatering at first, but just some thinly sliced radishes or some watercress on thin bread spread with sweet cream butter is a true delight.  I like to call them "butter and" because basically you just add thin slices of whatever you want to butter and bread and it will likely taste great! Personally, I love bitter tasting veggies like radishes (breakfast radishes are my FAV) because they are a great contrast to all the sweets one has at teatime. 

Sweet Treats

Scones with cream and jam – Speaking of sweets, seriously, you cannot have tea without scones with cream & jam!  The good news is scones, though seemingly quite fancy, are not pricey nor  difficult to make. check out this simple scone recipe!
Mini Lemon Cakes - I always enjoy something lemony at my tea table.  Why not take one of those mini muffin pans and make a bunch of inexpensive vanilla mini cupcakes, then top each with a dollop of high-end lemon curd- yum! Suddenly your basic cupcakes will look more like English elegance and less like bake sale fare!
Nutella Sandwiches – Nutella, the rich, creamy, chocolate/hazelnut spread, makes a perfect sweet tea sandwich!  Just toast some very thin white bread, and spread it on.  For added texture, sprinkle some chopped up hazelnuts to the sandwich before you put the top piece of bread on!
|
Print
Pages: 1 2