by Stephanie Berenbaum – April 21, 2010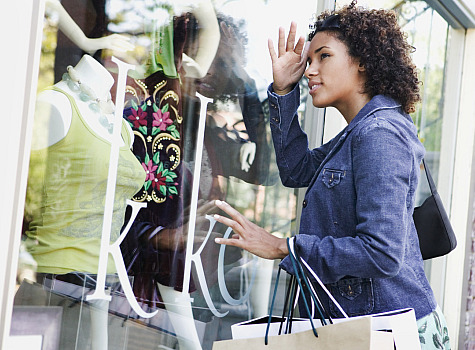 Unexpected Style Savings
I might be overstating it just a little bit, but I think I can feel the forces of fashion karma at work.  I debated whether or not to share my love of very expensive AG jeans with you all the other day in my "Urge to Splurge" article.  But here at Fab & Fru, we believe the key to having a healthy relationship with your finances is to talk openly about money & spending- which includes fessing up about your favorite splurges.  And a mere one day later, my cathartic admission seems to have paid off – at least for you ladies!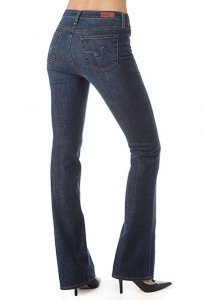 I happened to be walking past the AG store yesterday and stopped in to browse around.  With alarm, I noticed that though they still had my prized Mid-Rise Angel jean (AG – $168)  in stock, in many colors, the one color I loved the most – the Dakota – was gone.  I panicked.  What if my kids threw crayons in the drier before I turned it on this morning?  After 38 years of searching for the right jean was it all gone, just like that?
When I confronted the salesman, he got all Fab & Fru on me – and I want to share this insider tip with you!  He calmly told me that the Dakota color was officially discontinued – but actually still available – for HALF PRICE – at AG Outlets around the country! There was nothing wrong with them – they just sent the discontinued colors out to pasture.  Could this really be true?  I called Woodbury Commons in New York – sure enough, they had a whole bunch of my beloved Mid Rise Angel Dakotas – for $86 each – half price (and yes, still pricey – I know)! I didn't even know that AG had outlets, or that perfectly good Dakota colored Mid Rise Angels would be there, just waiting for Fab & Fru girls to snap them up!
Finding the half price AGs definitely sent me back into Fab & Fru shopping mode, so of course my next stop was Target.  I was clearly having a lucky fashion day and wanted to keep the momentum going.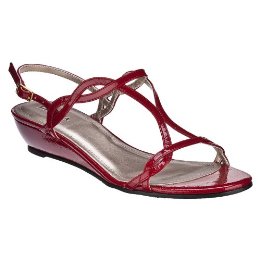 Again, the universe seemed to be revealing fashion finds to me more than usual.   There was a pair of sandals I bought at Target last year that were so comfortable (seriously!) and so adorable, I wore them every day and then kicked myself for not having bought two pairs. But there they were on the shelf!  The Merona Elvera Demi Wedge ($19.99) back and better than ever – in several new colors!  So much Target fashion is discontinued after a season, I couldn't believe my good fortune!  Apparently, I wasn't the only one in love with these sandals.
And the sandals were just the start of my Target victories for the day.
As I was walking through Nordstroms the other day, I saw the most fabulous pair of Birkenstock-like sandals by Fab brand Pedro Garcia.  They were more refined than Birkenstock – plus they were gold and encrusted with rhinestones.  SO cute for summer, I thought. The price – not so cute — $400!!!!   I could not believe my eyes.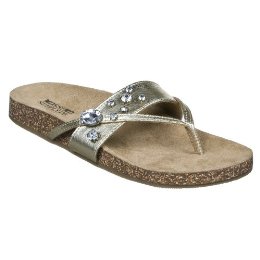 So, back to my karmic trip to Target.  Right next to my beloved Merona Elvera's, I see a glimmering rhinestone beckoning to me.  Would you believe that Target has a reasonable facsimile of the Pedro Garcia's – for only $14.99?  The Mossimo Walker Embellished Metallic Gold sandal is, of course, not exactly the same as the Pedro, but close enough!
Now I am feeling like my new target shoes, AG jeans and a t- shirt will be my summer uniform.  Maybe just an accessory to top it off?  I had recently been eyeing a long, multi-chain necklace at a boutique on 3rd street – but at $300 it hardly seemed worth it.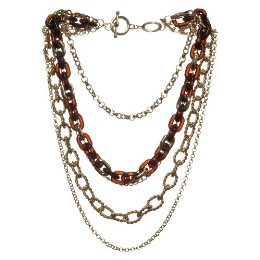 Then my woman's intuition led me to the Hollywood Intuition rack at Target – and I found one of my favorite necklaces of all time – for just $16.99!! The Hollywood Intuition Multi-chain link necklace, with its layers of gold chains and faux tortoise shell is just what I was looking for.  And so similar to the $300 boutique version that I had been salivating over- for  less than $20!
As I walked out thinking about my new summer ensemble, it occurred to me it was the perfect mix of fab and fru – my crazy expensive jeans – worth every penny – combined with shoes, accessories and a tee from target – are a true fab and fru fashion victory!
|
Print