by Brandi Savitt – April 14,2010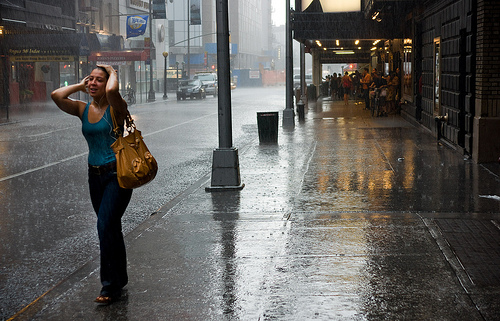 Stylish Rain Boots & Coats for Less
I don't know why, but when it comes to fashion, I have spent my entire adult existence denying the fact that it often rains in New York City, and that I should own some cute and functional rain gear!   I have cool snow boots and coats for all shades of winter, but every time it rains, I show up to the office with wet feet, damaged shoes, and I'm chilled to the bone for hours.  All in all- NOT very Fab & Fru of me…  So this spring, I have vowed, as April Showers bring May flowers, to hunt me down some fun & affordable rain gear rain gear that I won't mind wearing to a lunch meeting.  My goal- boots & a jacket for under $100.. Here's what I found!
Rain Boots Under $40!
Can someone tell me how rubber slip on boots can ran range from $25-$800?  There are A LOT of rain boots out there to choose from, so whether you want a more classic style or something a little more funky, there are several sites out there that offer great discounts on name brands as well as fantastic deals from lesser known companies.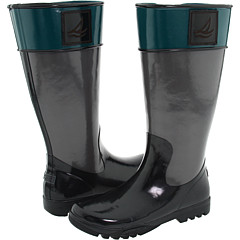 6pm.com
6pm.com has deals for up to 47% off pricier name brand rain boots like Hunter & Sorel.  However, their best deals under $40 are on select Kamik & Sperry Topsider styles all around $35 dollars.   To make the deal even more enticing, 6pm is offering FIVE Fab & Fru readers a chance to win an additional 20%. To enter, just SIGN UP for the Fab & Fru mailing list!
Like.com is a pretty cool site that searches the web for the best online deals on certain brands & products, and then directs you to the online store where you can order the merchandise directly.  Their shoe search section led me to discover the amazing range of $25 rain boots at Target, as well as my new favorite rain boot brand Nature Breeze- with all styles on sale for $26-$34.  To make it even easier, you can narrow down your search by size and price point!
ShiekShoes.com has a large variety of boots and most of the Nature Breeze Rain Boots I found on Like.com are actually for sale directly at here for under $34.  (Like.com will send you here).
Target
Target has an abundant range of rain boots from classic styles to colorful prints all for $24.99!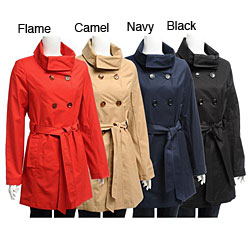 Rain Coats Under $60!
It must admit, it was much more challenging to find a good deal on a coat with some flare than the plethora of boots on sale out there.  However, once again Target pulled through with a darling belted rain jacket ($49.99) in FIVE COLORS that rivals a Micheal Kors coat that I've been eying! I was also pleasantly surprised to find some great deals at Overstock.com!  Overstock has three classic styles of  DKNY jackets and trenches for under $60 as well as two ABS looks that are worth a peek!
My Rain Boots & Jacket!
Here's my new look rain look for $77!
Black Target Rain Coat: $49.99
Nature Breeze 'Horse' Rain Boots (Like.com): $26.88
Print