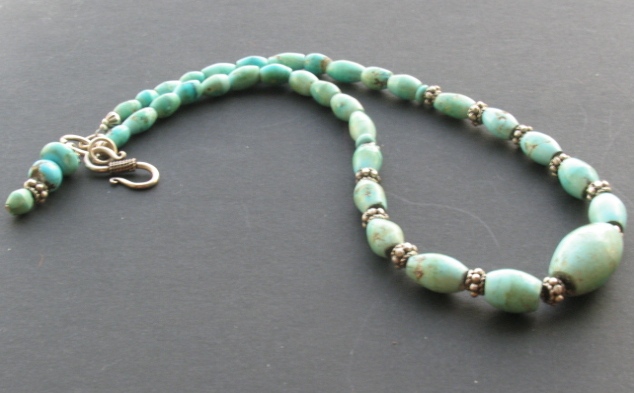 We always hear that it is better to give than to receive, but can one actually be a BAD gift 'receiver'?!
Our friend Debbie went looking for a birthday gift for her friend, Sara.  She searched several stores before finding what she thought was the perfect gift:  a long necklace with gorgeous turquoise beads – Sara's favorite stone!
Sara opened the gift and immediately commented on the beautiful the shade of greenish-blue.  Then Debbie said, "Great – I'm so glad you like it!  The second I saw it,  I could totally see you wearing it!"
Sara held the gift up to her neck and said "The only thing I would change is I'd make it shorter — I think it would be much cooler if it were choker length…  I'll go and get a new clasp tomorrow.  Thank you so much, Debbie!"
Debbie confided in us that she felt a bit put off by her friend's reaction.  Sure, Sara had commented on how much she loved the color.  However, she wasn't paying Debbie to be her personal shopper.  Debbie had given her a gift, and she felt Sara's reaction was cheap — ie – she was focusing on what she would do to get an item she wanted, rather than reacting graciously to Debbie's thoughtful gift.
Some of our friends thought Debbie was being too sensitive….some of us thought Sara wasn't being sensitive enough. So what do YOU think?  Is Sara a 'cheap receiver' or does Debbie just need to toughen up?  Was saying something in the moment better than wearing the altered necklace in front of Debbie in the future without having said a word?  Could Sara have told Debbie her jewelry makeover over plans differently so Debbie's feelings weren't so hurt?  Or should she not have divulged them at all? Tell us your thoughts!
|
Print