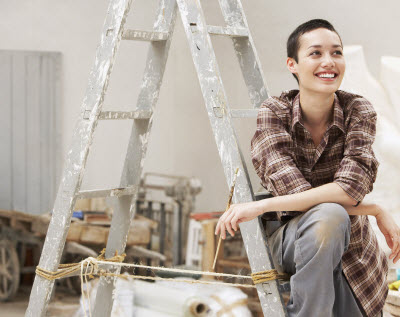 8 Must Do DIY Home Maintenance Tips for Spring
Spring has sprung, and now is the time to spruce up your house and make simple fixes before allowing minor issues turn into big expensive repairs down the line.  Matt Lederer of Chicago-based Mahogany Builders shares with us eight fantastic DIY tips that will save you money, save energy, keep your family safe and maximize the curb appeal of your home!
Spring is the season of rebirth and regeneration, and Matt believes the same is true for your home! He suggests to first walk across the street and  survey your house from afar. Do any 'MUST FIXES' reveal themselves?  Now is the time to plan any seasonal projects before the distractions of summer take over and you lose momentum. Also, if you need to bring in outside help for big projects, early spring is the best time to take advantage of contractor discounts and open schedules before renovation season goes into high gear!
Check Your Basement & Foundation
Scan everything in the basement. Check the floor for cracks.  Check the water and sewer pipes for leaks, mold and tearing and pests. Address any moisture or water problems immediately either with a water vacuum, dehumidifier, or new gutter drains.  Drain all sediment from your hot water heater. Change your furnace filter in April which will improve energy efficiency.  To reduce any smell of mildew, purchase an odor absorbing product with neutral or no scent.
Fix Up Your Front Door
Your front door should be an inviting gateway into your home.  However, winter storms, wear & tear from adults, kids & animals can leave your door looking dingy and weak. Consider replacing your main entrance with a more energy efficient door that not only looks great but will  save you money on heating and air conditioning bills. If you don't want to spend the cash on a new door now, a simple paint job to the door you have will do wonders!
Painting & The Trim

Carefully scrape, prime and paint peeling spots on trim or exterior woodwork. This will help to protect the wood against summer's heat and moisture while preventing a more elaborate and pricey paint job come fall.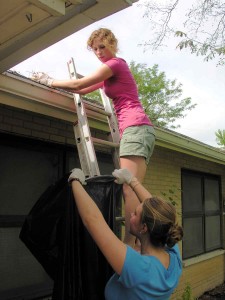 Painting is one of the best ways to transform the look of your home inexpensively.  Adding crown moldings, chair rails and other trims can create a custom look on a budget.
Clean Gutters & Inspect the Foundation
Gutters are a breeding ground for insects, mold, mildew and algae spores that can enter your attic and allow biological growths to enter your home. Scoop out debris and run water down the gutter with a hose. Invest in a gutter cap or screen. Scrub out the inside with a gutter brush. Inspect the foundation of your home for large cracks and shifts in the blocks. Seal large cracks and gaps between the foundation and concrete/earth and directly on the concrete. Any remnant snow should be shoveled to drain away from the home.
|
Print
Pages: 1 2