by Stephanie Berenbaum – April 19, 2010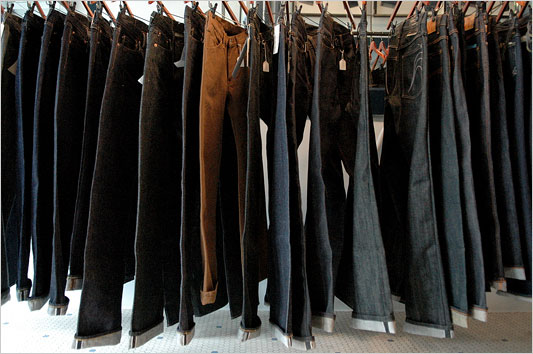 The End to My Denim Dilemma
As you may have noticed, we typically write about fantastic deals and frugal finds. After all, we are Fab & Fru.  However, we can not neglect the fact that half of being Fabulous & Frugal is knowing when it's okay to JUST BE FABULOUS!  We don't talk about it often, but what do you do when you stumble upon a FAB ONLY FIND that is a MUST HAVE and totally worth the splurge?  The answer is simple.   As long as you're going to get good use out of it, you won't go into debt buying it, or default on your rent- we say: BUY IT! The right splurge can actually be a great investment and save you money in the long run!
After searching for decades, I have finally found a pair of jeans that I LOVE, and they are absolutely my favorite splurge! The brand might not exactly roll off the tongue, but it should – so here is my unabashed shout out to Adriano Goldschmied for making the AG Mid Rise Angel Jeans — worth every penny of their $160.00 price tag! You know if Miss Fab & Fru is endorsing a $160 pair of jeans, they must be something special.
The last pair of jeans I remember truly loving were bought in the 3rd grade – they were Gloria Vanderbilt with a narrow, red, disco-era satin stripe down the side of each leg.  And they were Fabulous.  Of course that was 30 years ago, and  I haven't found a pair to get excited about since…until now.
As a work from home mom of two, jeans are my uniform. And given that I live in L.A., that means that jeans are an acceptable choice for just about every social event from dinners to some weddings and beyond.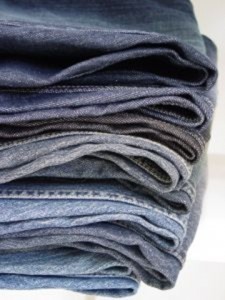 If you looked in my closet, you'd find the eighth wonder of the world: Denim Mountain.  Depending on your body type, you may not understand why I have had such issues finding jeans, but here's the deal: I am 5'3" (if I stand up really straight), I have had two kids, and instead of being blessed with long legs, I have a long torso.  Which means that when I am sitting down, I look relatively tall and most people don't realize I am a petite section shopper until I stand up.  One of my closest friends on the planet is only an inch or so taller than I am, but her legs basically extend up to my breasts – you know the type.    I actually always thought she was a good 5 inches taller than I am, until I realized she had just won out on the proportion game.
The lack of long legs, height, and (sort of) recent birth of two children has left me horribly out of fashion – no ultra low cut, long legged lady jeans for me.  And the issue of always having to get my jeans hemmed adds insult to injury – very few jeans look decent once they have been slashed into petite mode.  I have at certain points considered just going back to an earlier time and becoming a skirt-only lady, giving up on jeans all together.  However, try sitting in a mommy and me gym class and rolling backwards on the floor with your kid in a skirt – not so ladylike after all…
I've tried buying inexpensive jeans – actually so many pairs that they no longer count as being inexpensive! But I hadn't found anything terribly flattering. Which isn't to say I didn't wear them – I just didn't feel good about wearing them.   I kept hearing about how this one brand – AG – was terrific.  Of course, the people I was hearing about it from either weighed 90 pounds or were of the long legged variety, so I was skeptical.  Finally,  one day I just had it !  I ventured into Beverly Hills and had what I expected to be my first and last denim hurrah at the AG store.  I wasn't hopeful at all when I walked in, and hoped to have enough control to walk out without another pair of jeans that would end up in the pile of rejects.
|
Print
Pages: 1 2