by Stephanie Berenbaum – April 26, 2010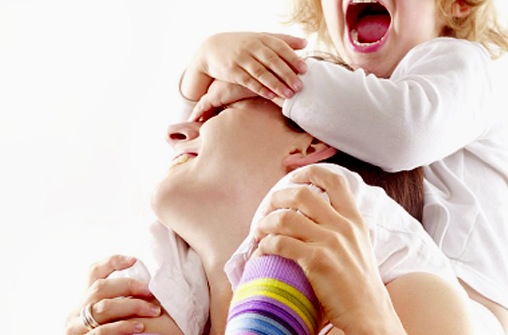 Mothers Pay for Mother's Day?
Mother's Day is fast approaching, and with it, an annual tradition I look forward to.  I'm not talking about breakfast in bed or flowers, I'm talking about the annual survey from Salary.com on 'What Moms Are Worth'. Each year, they survey thousands of moms to see which jobs best fit the description of the many things they do, and they calculate a "salary" accordingly.  As the mom of two young boys, I have to say the thought of monetarily quantifying all a mom does is more than intriguing – it's about time!
Of course, the idea of 'working moms' is always a bit controversial.  Because, of course, all moms work – no matter if you have a career out of the house, run your business from home, or focus entirely on your family.  Depending on your mate, you may be married to someone who fully understands the value of all the hard work that you do.  Or you may live with someone who thinks that because you are not the bread winner, you aren't really working.  Though few of us want to admit it, I think many Stay At Home (SAHM) & Work From Home Moms (WFHM) find themselves in the uncomfortable space that lies somewhere in between…  Sure their spouse realizes all the hard work they do, but at the end of the day, he might still come in and expect a hot dinner waiting for him on the table.  Women in both camps seem to long for one thing - recognition for all they do!
For many people who work outside the home, there is the instant gratification of the pay check and maybe even a raise! Heck, even a performance review to make you feel good about your efforts. But for the SAHM, sometimes it is easy to overlook her contribution both to the financial and overall well-being of the household.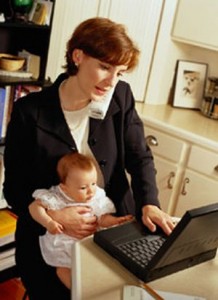 Since having children, I have been both a SAHM and now a WFHM running her own business.  And while, yes, the cliché is true – being a mom is the hardest and most rewarding job I have ever had -  I can't say that every once in a while I don't long for the days of  my old stockbroker paychecks.  I have to be honest – bringing home a physical paycheck really was gratifying, particularly in a lucrative field.  If I had a really stressful week and then had a big bank account deposit to smile about, it did make things easier to take!
I remember once one of the guys I used to work with told me his wife (a SAHM) missed having a paycheck, but he thought her 'pay' came in the form of their children being polite, well behaved and kind.  While I agree this is huge payoff, and of course I am gratified when Noah says 'excuse me' instead of just shoving someone out of the way, I can totally understand wanting that pay stub which proves that you are recognized and valued.
This year's Salary.com survey should be out soon, but according to 2009′s results, based on a survey of 12,000 moms, here's what best fit their job description: housekeeper, day care center teacher, cook, computer operator, facilities manager, van driver, psychologist, laundry machine operator, janitor and chief executive officer. In my house I would also add plumber, nutritionist, animal control expert, waste removal expert, human resources manager, and business owner to the list. So, any guesses at to what the many jobs of a SAHM equated to in salary? A whopping $122, 732! And who knows, with your own customized description, it could be even more!
So, if my husband is reading this like he claims to read all our articles, my wish may be about to come true! Salary.com actually will allow you to print out a customized pay stub for mom!  Just check out their 'Mom Salary Wizard'. It is one of my fave Fab & Fru Mother's Day gift ideas (yes, husbands you should still get that Spa gift certificate) and a way to make a truly creative mothers day card!
I can't wait to see what the 2010 numbers look like on salary.com, and if all the SAHMs out there got their well deserved raise!
|
Print