by Brandi Savitt- May 17, 2010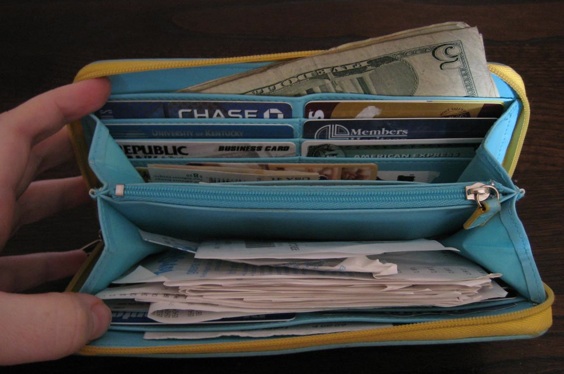 Save Money by Organizing Your Cash & Cards

The state of your wallet is a reflection of how you deal with money, and an organized wallet WILL save you money!  However, it does take some effort.  I've been there… There are times when I get so busy that my own wallet becomes totally cluttered with receipts, and  I absent-mindedly  stash cash in random compartments sending me to the ATM for more-even though I don't need any.  It's truly amazing how quickly such a small thing can become over run, and when it does, you lose your Fab & Fru footing and spend more than you planned.
It's time to give your wallet a Fab & Fru Makeover!  Our friend Clarky Davis, The Debt Diva, agrees with me, and she also SAYS -"what you keep in your wallet, will help you become debt free".  Read on for our wallet tidying tips that will help you spend less, save more and reduce your debt in the process!
Keep Your Cash in Order

Don't laugh at the people who take the time to have all their bills face the same way and organize each denomination from smallest to largest.  These folks tend to know how much money they have in their wallet and how much their spending in the course of a day.  Do you?  Chances are, if you're respectful of your cash and treat it like it matters, it will only benefit YOU in the end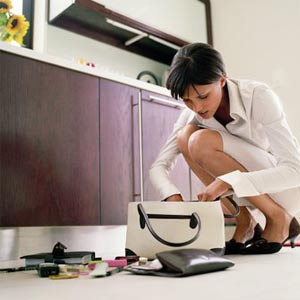 !
Keep Your Credit in Check
Clarky says, "unless you travel often, remove your credit cards from your wallet and keep them at home in a safe place. Having easy access to credit can be too tempting for those of us who tend to make unplanned purchases. Credit cards should be used only in case of emergencies, not for a trip to the mall with your friends".
The Power of Debit Cards & Prepaid Plastic
If you are not big on carrying cash, Clarky suggests using a debit card as your cash alternative.  However, BE CAREFUL!  You need to be engaged in your spending and aware of the funds you have available in your account.  You don't want to overdraw your account and pay hefty bank fees.  If that's a problem for you, consider getting a prepaid card.  What's different about a prepaid card is that it's tied to a savings account (typically an online account) rather than a checking account. You can only spend the money available in your account. If you go over your balance, your charge will be denied and you won't incur any fees.
A $20 Life Saver
Clarky encourages us all to be PREPARED!  You never know when you'll need access to cash, and some vendors require a minimum purchase to use a debit card.  Keep a $20 bill in your wallet at all times. You never know when you may need to hit a pharmacy or convenience store for a small purchase just to make it through the day.

Get a Receipt but DON'T Leave It in Your Wallet

Save the receipts for any purchases you make, so that you are able to track your spending to see where your money is going.  Your receipts can help you keep your budget in check and make strategic purchasing decisions.  However, if you let them accumulate in your wallet, they will be of no use to you and seriously disrupt all of your money organizing efforts.
Each night put the receipts from your wallet into a shoe box or other container.  At the end of each week, organize them into categories (groceries, restaurants, gas, etc) and tally up your totals!
Rewards Cards
Clarky insists that no wallet is complete without rewards membership cards from vendors you frequent - particularly your grocery store. You should always keep those cards on hand for unexpected trips to pick up milk or eggs on your way home.
Keep the Change
Both Clarky & I love to encourage people to save their spare change.  It is shocking, but you can build a healthy savings account from the coins in the change purse of your wallet (and don't forget the loose quarters & dimes at the bottom of your bag).  Starting small leads to big gains, and it will get you in the habit of saving.  Always keep the change from any purchase, and put it straight into your piggy bank when you get home at the end of each day!
So take ten, and give your wallet a makeover.  When your physical money is organized, you WILL have a better handle on ALL of your finances!
|
Print