by Brandi Savitt – updated May 29, 2013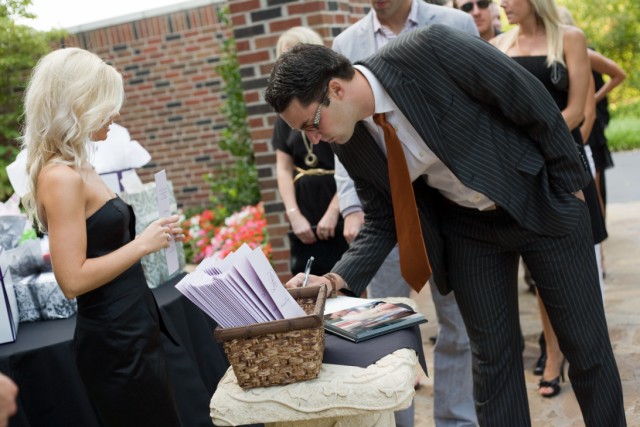 The Cost of Being a Good Guest
Wedding season is here, and with it, that eternal question: how much should you spend on a wedding gift?! After talking with friends and reading an overwhelming amount of expert opinions, there really doesn't seem to be a clear consensus for what to do.  And if Emily Post doesn't have a concrete answer, no wonder the issue sparks so much controversy and anxiety!
The Average $ Spent
There is good reason why everyone answers this question differently: it's complicated!  I have seen intricate formulas based on how well you know the couple, to how much you have already spent on a shower gift and the bachelorette party, to the nationwide blanket average of  $75.
Where you live does make a difference –  major cities like New York, Los Angeles, Boston & Chicago tend to average higher at about $100, while in smaller towns the average runs closer to $50.  But that is not the whole equation!
YOUR BUDGET is a huge a factor in how much you should spend.  Buying a showy gift that you can't really afford is not the answer! If you can't afford the gift you wish you could give, there are ways to show your generosity which don't involve you going into debt… We repeat: you should NEVER rack up debt to buy a wedding gift. If you can't pay for it in full, in cash – don't buy it! 
Get Creative
Giving a wedding present is like giving any other kind of gift – the thought behind it MATTERS MOST!  And giving a gift from the heart can be a great way for you to demonstrate your generosity in a way that doesn't necessarily involve dollars.
If you have a particular talent, a wedding is a great time to share it with the people you love.  I had a friend who made & bound the leather guest sign-in book for our friends' wedding.  Another artist friend of mine illustrated her friends' Ketubah.  Our friend Vittoria handmade all of the party favors for Steph's wedding, while a DJ friend made hours of  playlists for the rehearsal dinner.  And I myself designed Steph a handmade piece of pottery that I made just for her big day.
Pool Your Assets
If you don't have a lot of money to spend, consider getting some friends together to buy a more expensive gift off the registry!  It will mean the world to your friends for helping to fulfill one of their more extravagant wishes.
Paying The Price?
There is often a misunderstanding that the amount you spend on a gift should cover the price the hosts are paying for your plate.  Not sure where this urban myth got started but nothing could be further from the truth!  How tacky would it be for a host to even think that you need to "cover" the cost of being there?  The gift is an expression of good tidings to the happy couple – not coverage for your dinner!
|
Print
Pages: 1 2