by Kathy Pape – May 6, 2010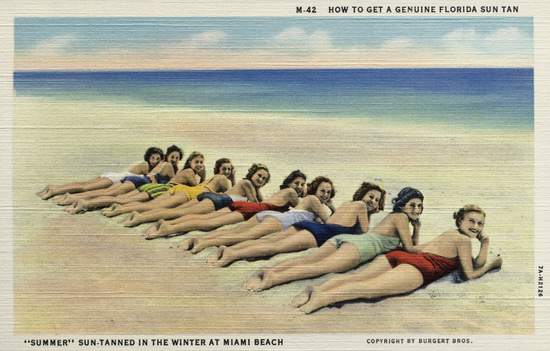 And Get in the Swim!
There is nothing worse than shopping for a bathing suit.  Every woman dreads it…unless you're a Sports Illustrated model. And, of course, when you live in Las Vegas like I do, it's literally the staple of your summer wardrobe! Not a day goes by that I don't wear a bathing suit, so as the temperature begins to creep up to the 115-degree mark I know it's time to bite the bullet and go shopping.  Swimsuits are usually not returnable due to their undergarment-like nature, so it is very important to choose correctly when purchasing. Luckily, Fab & Fru asked the fashion experts at 6PM.com for some tips on how to find the right suit for your body type!
Shop with a Friend
It turns out the best way to shop for a swim suit, is to bring along a honest girlfriend (assuming your friend knows how to break bad news to you gently)! Noel Cusimano, a buyer and stylist for 6PM.com says the THREE BIGGEST MISTAKES women make when buying a new suit are: not knowing their assets, not understanding their trouble areas and not having a good friend to tell them how it REALLY looks!  The key, she says, is figuring out what parts of your body you'd like to feature, and what areas of your body you want to hide (mine is the annoying muffin top from having two kids).
Play Up Your Assets- Not Your Problem Areas!
Here in Vegas everyone wears a bikini whether they should or not.  6PM.com's Senior Buyer Graham McCulloch says there's no age when you absolutely have to stop wearing a bikini!  He points out that Helen Mirren (65) and Demi Moore (48) still rock their bikinis, but he says you should be honest with yourself and pick the right suit for your body. "A bikini is all about the torso, so if you don't have a great middle you might want to go for some of the cute one piece options that are really popular right now," says McCulloch.  "A lot of one pieces have cutouts on the side, open backs, plunging necklines and really high cuts which play up your legs or chest without showing your midsection."
The Bikini Mix n' Match
If you are daring enough to wear a bikini, the hot style this year is a solid top with mix and match bottoms. The key is to match, but make it look like an accident- think California surfer girl!  This look is also Fab & Fru because many of these bikinis are reversible, so you get two suits in one!
Dark Colors & Prints
Black is slimming, and that applies to a bathing suit more than the little black dress…  And you don't have to stick with just basic black either. Navy and any other dark color will do the trick to make your silhouette look slimmer!  On the flip slide, loud prints attract attention to your trouble spots and will make you look bigger than you really are.
Cup Runneth Over?
Cleavage is great, but it can also have its disadvantages.  It's sexy, as long as it's under control and supported correctly. If you're a C cup or above you should choose a suit with an under wire top or one that's designed for long torsos that will give you some extra material where you need it!
|
Print
Pages: 1 2