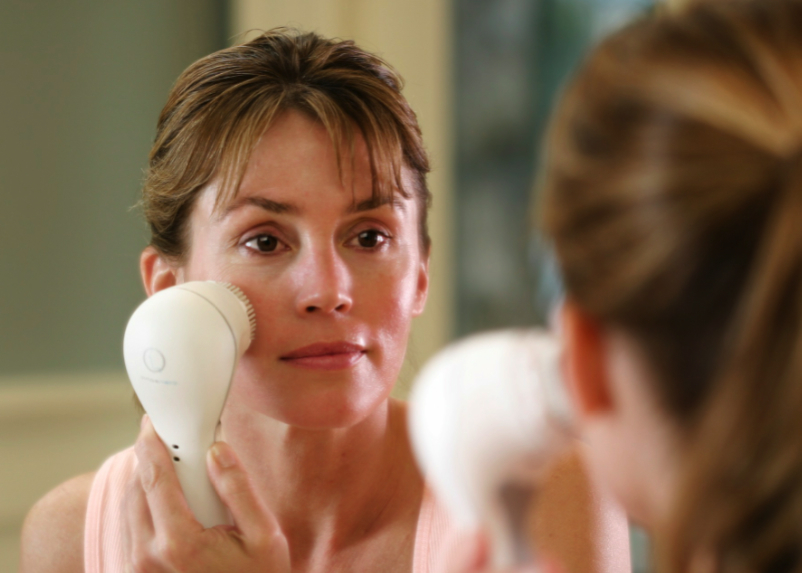 Is the Clarisonic Facial Brush Worth the Splurge?
Here at Fab & Fru we realize that quality can definitely be worth paying up for!  We just don't want to spend our hard earned dollars on products that aren't worth it.  Every time I turn on the TV, open a magazine or one of the ten zillion catalogs that I am sent, I admit it – I am tempted.  Most items I forget about within a few minutes, but sometimes one sticks with me long enough that I think it is probably worth investigating. So, readers, I am asking you to help me do just that!  This new "Worth It…Or A Waste?" feature gives YOU the chance to chime in and give your opinion if you've tried – or even heard anything about – the product we are discussing.  It's a great way we can all help each other know when a purchase is worth it … or not!
So, the product in question today is: The Clarisonic Facial Cleansing Brush.  I am constantly on the hunt for something that will really cleanse and purify my skin….but at the hefty price tag of almost $200 could it really be worth it?
The Clarisonic cleansing brush uses the same technology as sonic toothbrushes.  The sonic wave technology  claims to remove make-up 6 times more effectively than traditional washing!  They claim their ultra-effective cleansing allows your products to penetrate further and work more effectively.  I have to admit, anything that can claim to clean the smog of L.A. from my pores is appealing to me!
I mentioned to Brandi that I had been wondering if an investment in a Clarisonic was worth it.  Much to my surprise, she told me she already owned one!  Brandi's opinion was that she liked it quite a bit – but wasn't over the moon.  She had received the Clarisonic as a gift, and while she uses it sometimes, she's not convinced that she would have spent $200 of her own money on it.  After all, she said washing your face with an old-fashioned washcloth in a circular motion gives her the same results…
What do YOU think? Anyone else out there tried it? Despite Brandi's lukewarm appraisal, I am still tempted by the thought of the spinning bristles working magic and gently exfoliating my skin — and of course the lure of the "younger and smoother" skin Clarisonic touts on their website. Should I buy it? What do you think  is the Clarisonic worth it … or a waste?
|
Print