by Brandi Savitt – revised May 27, 2014
Refreshing Hidden Gems for Under $15 a Bottle!
Back in 2011, former owner of Donna da Vine and wine expert Aylssa Becker gave us a list of her favorite summer wines from around the world.   These hidden gems were – all under $15 a bottle, and we at Fab & Fru have been enjoying them for years.
Now, we want to add to our list. Check out Aylssa's picks, and then let us know what you're drinking this summer. We can't wait for your recommendations – Cheers!

Favorite Summer Sparkling Wine
U mes U fan Tres (1+1=3)-Spain-$14.99 per bottle
Produced from estate-grown, hand-harvested grapes, this light, bubbly Cava Brut features a burst of racy lemon-lime flavors and finishes clean.  Simply refreshing!
Favorite Summer Whites
Jelu Torrontes- Argentina- $13.99 per bottle

With hints of honeysuckle, this crisp wine is slightly creamier than a Sauvignon Blanc and has a fresh, clean finish.  -The vineyard practices sustainable farming methods.
Berger Gruner Veltliner-Austria- $14.99 per bottle
This light, minerally white has a pleasant acidity and burst of citrus and stone fruits.  Extra bonus- this liter sized bottle will pour you about an extra 1 1/2 glasses of vino!
Favorite Summer Reds
Vinos Piñol Ludovicus-Spain-$14.99 per bottle
This complex full to medium body red is a delicious MUST to pair with anything off the grill!  Known at Donna da Vine as the 'Sid Vicious', its blend of Grenache, Syrah, Tempranillo, & Cabernet Sauvignon creates a along finish of lingering bright fruit flavors.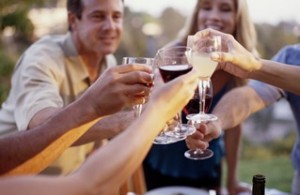 Chapoeira Tinto-Portugal- $11.99 per bottle
To best bring out the beautiful combination of the dark black fruit and hint of herbal eucalyptus found in this Cabarnet Sauvignon/Castelao blend,  serve it slightly CHILLED!
Favorite Summer Rosés
Charles & Charles-Washington State/Provence- $14.99 per bottle
100% Syrah, Aylssa says this delectable, clean, dry rosé is like diving into a big bowl of fresh picked strawberries.  This wine is a collaboration between American producer Charles Smith & French producer Charles Bieler.  It is made in Wala Wala but in the style of Provence!
Swindle Rig-Sonoma Valley-$20.99 (but totally worth the splurge!)
Aylssa swears that this MUST TRY hidden gem is worth the few extra bucks and then some.  Only 60 cases TOTAL were made of this Grenache rosé! Fresh and vibrant with an electric pale strawberry color, followed by a hint of ruby grapefruit, dried rose petals & crushed wet rocks, this wine struts its fruit and crunchy acidity harmoniously.  It's bone dry, with a punch of juicy fruit to fill in the middle.  Aylssa says it's so good it's GULPABLE, and if you serve it with a goat cheese & leek tart- you'll think you're in heaven! –Bonus- the bottles are liter size so you will off set the price a bit by getting an extra 1 1/2 pours out of the deal!
|
Print