Summer with Tips from the Debt Diva

Our Fab & Fru friend Clarky Davis aka -The Debt Diva-  is always a treasure trove of info on how to play your cards right – your credit cards, that is!   As we dive into full summer swing, check out Clarky's top tips for getting your credit in shape – so by the time fall rolls around, your finances won't be leaving you out in the cold!
We all know that managing credit is no easy task -  particularly with pesky rising interest rates and shrinking limits. Toss in the pressure to have a perfect credit score and many consumers find themselves feeling overwhelmed and struggling to make the right money management choices.  Sound familiar? Well, here's how to solve some of the most common credit problems people face today!
Do You Have Too Many Credit Cards?
Well, it might make you feel better to know you are not alone! Most consumers who use credit cards have an average of six cards – yes, SIX – that is NOT a typo!  Even though some of our friends want to close down some of their accounts, they are wary of doing so because they are concerned it will negatively affect their credit score. But, look on the bright side: there are also many positive effects of closing a credit card account! Closing credit cards will lower your potential debt and it prevents the temptation to overspend.  If the credit card is a bad deal, ie: high interest rates and annual fees, it is beneficial to close it.  However, if you have had a credit card for a number of years, and it still provides good benefits, you may want to consider keeping that one open.  It will reflect positively on your length of credit history, which is one of the many criteria used to determine your credit score.
How Do You Choose the Best Credit Card for YOU?
When considering a credit card, choose one with a low interest rates, no annual fees, reasonable credit limits and clear billing policies. It's important to shop around. Also get recommendations from your friends who feel as though they've been treated fairly by their creditors and received good benefits.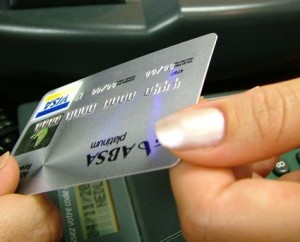 Has Your Interest Rate Increased?

If you needed encouragement to stop carrying a balance on your credit card, this is it!  With the implementation of the CARD Act on February 22, many consumers are seeing their interest rates increase.  Just what you needed, right?! If you've seen an interest rate hike, contact your creditor and ask to speak with the supervisor. Now is not the time to be shy, ladies!  Tell them you want it lowered or you are going to close the account.  Usually they will be willing to work with you rather than lose your business. Remember: your business is your bargaining chip. Too often we feel powerless, but we're not! If they are not willing to accommodate your request, take your business elsewhere.
Get Rid of Your Excessive Balance!
You've heard it before and now you'll hear it again: NOW is the time to buckle down and pay off your debt – before you are unable to meet your financial commitments. Prioritize those expenses that must be covered each month – mortgage, auto payments, utility bills and credit card payments – and cut out or reduce the cost of extras like cable television, mobile phones, eating out and recreational travel. Start with the credit card with the highest interest rate and pay that one off first. Then take that monthly amount and add it to the payments you're making on your other credit cards. You'll pay them off more quickly and spend less on interest. Lastly, remember that small changes add up – f you are able to make the more than the minimum required monthly payment, do so — even if it's just $5 more!
|
Print
Pages: 1 2