by Stephanie Berenbaum & Brandi Savitt – June 1, 2010

Chill Out Without Cha-Ching
You know Fab & Fru is always talking about how much money you can save just by brewing your own coffee at home.  So don't let the summer heat trick you into spending lots of money on bottled iced teas and lemonades at the grocery store!  You can make your own summer beverages for a fraction of the cost – and they are sure to be tastier than anything sitting bottled on the shelf…
Invest in a Soda Maker!
If you love soda, seltzer or sparkling water, make your own in less than 30 seconds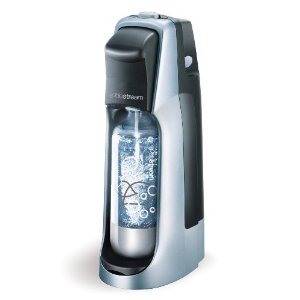 for about 50 cents a liter!  The Soda Jet starter kit costs about $90, it's easy to use, there's no mess, it uses NO electricity or batteries – and kids love it too!  Fill the reusable water liter right from the tap (filtered water tastes best), attach it to the appliance, press the button and add as much fizz as you like.  There's no sodium like in Pellegrino or some seltzers.  Just add soda flavors, a splash of juice, or squeeze in a little lemon or lime for a citrus zing!
Brew Your Tea in the Sun
Turn your favorite tea into a refreshing drink.  Use a glass pitcher or iced tea jar, fill it with your favorite tea bags or put your loose tea leaves in a large tea ball, and let it steep in the sun for 1-2 hours.  This technique allows for a slow brew and you don't need to heat up the kitchen with boiling water!
Try some of our favorites, like Blueberry or Green Tea w/Lemongrass for unique takes on tea. And then there is Steph's favorite….
Iced Hibiscus Tea
Steph has never been a fan of iced tea, and boiling hot coffee is still usually her summer drink of choice, but a recent encounter with a fruity, refreshing, ruby-pink colored tea expanded her horizons!  She was at a friend's house when she noticed a pitchers of a beautiful jewel colored liquid calling to her from the fridge.  She helped herself to a glass – and then another, then another.  This was a love usually reserved for her sacred french roast.  Her friend told her it was nothing more than brewed dried hibiscus flowers which she then chilled – Beautiful, delicious and unexpected!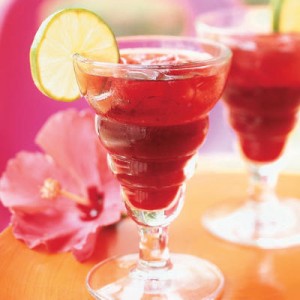 Pre-packaged hibiscus tea is often fancy and pricey and/or comes blended with flavors you may not like (not everyone loves the addition of ginger or rosehips or lime – and it was hard to find in the store without extra flavors added in).  A more frugal and personalized alternative is to buy the dried hibiscus flowers (about $12 or so for a pound) and then customize for yourself!  No need to pay for pretty packaging or ingredients that you don't want, and you can sweeten and add flavor as you see fit.
Iced Coffee
You know how we feel about wasting a ton of money at Starbucks – well store bought iced coffee is as big a money waster – or more -than hot coffee.  Who wants to pay for a glass full of ice and a couple cents worth of coffee?  Plus you're wasting a plastic cup – Forget it! Just make a pot of coffee and let it chill it in the fridge before adding ice! Be sure to brew it strong because the ice cubes will water it down. Or, a better idea: Make coffee ice cubes from your leftover coffee and never have watered down iced coffee again!
|
Print
Pages: 1 2