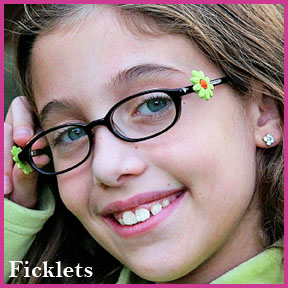 Have a kid who thinks their eyeglasses are geeky?  Make them COOL & FUN with Ficklets!
SIGN UP for the Fab & Fru Mailing List by MIDNIGHT June 17th & automatically be entered TO WIN TWO SETS of the Ficklets of your choice! Friday's newsletter will ALSO list the EXCLUSIVE 25% OFF PROMO CODE for Fab & Fru readers only!
From flowers to basketballs, these interchangeable eye wear charm huggers are designed to adorn eyeglasses with a fun, fresh twist to help both girls & boys feel comfortable in their glasses and make the whole experience more enjoyable!  –You'll also SAVE $ by giving tired, old eyeglasses a quick & affordable makeover without having to buy new frames.  Best part, your child will find the "eye-popping" designs irresistible!
|
Print