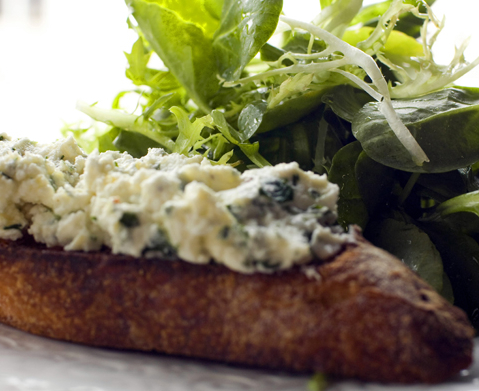 Looking for an inexpensive, super easy to make appetizer to serve to a group with sophisticated taste buds? Check out this Fab & Fru favorite!  You can never go wrong when serving a crostini!
*Makes about 20 small crostini- Serves 6
Ingredients
1 French baugette (or other crusty bread)

4 oz of creamy goat cheese
2 leeks, cleaned well & chopped
1/4 extra virgin olive oil
Salt & Pepper
Directions
Slice the baguette into about 20- 1/4 inch thick rounds and spread them onto a baking sheet.  Brush each slice of bread with a little olive oil and put in the oven at 4oo degrees until lightly toasted.  Let the crostini cool.
Sauté the leeks using the rest of the olive oil.  Add salt & pepper as the leeks soften.  Cook until caramelized.  Let cool.
Once the leeks are cool enough not to melt the goat cheese, mix the two together.  Add more salt & pepper to taste.  Spread the mixture onto each crostini and serve!
|
Print