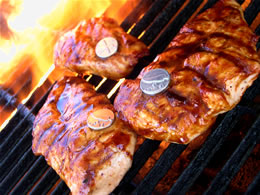 HEY ALL YOU BBQ LOVERS! How do you like your meat cooked?  Well now you can take the guess work out of what's rare and what's well-done with GRILL CHARMS!
Grill Charms™ offer an entirely new concept in outdoor entertaining. Grill Charms™ are dime-sized solid stainless steel charms that are placed in food BEFORE grilling. The serrated stem holds the charm securely while flipping, moving and grilling food like you normally do. Grill Charm™ your food PRIOR to cooking to distinguish spices and flavors, steak temperatures, or to avoid health or allergy issues. When the BBQ comes off the grill, everyone knows which one is theirs!
They are NOT ONLY the hottest grilling accessory of the season, but with four fantastic collections to choose from, Grill Charms™ make the perfect gift for any occasion!

SIGN UP NOW for the Fab & Fru mailing list and AUTOMATICALLY be entered to WIN a FREE Six Piece Spicy Collection Set of Grill Charms!! Everyone member of our mailing list will ALSO receive an Exclusive Promo Code for 25% OFF ANY set of Grill Charms in this Friday's newsletter.
**Remember, if you already receive our weekly newsletter, you have already been entered to WIN!
|
Print