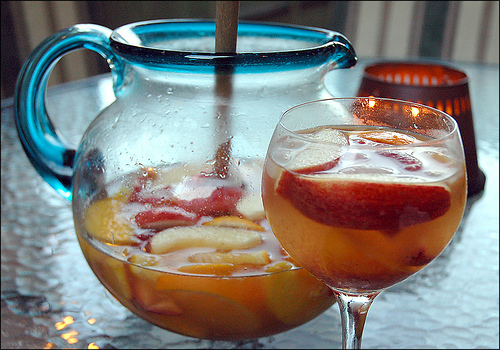 This delicious, refreshing & easy twist on white sangria is simply to die for!
*Serves 6-8

Ingredients
One bottle of that White Port (a bottle of Sauvignon Blanc or Pinot Grigio will do the trick too)
2oz of Simple Syrup
A dash of orange bitters (optional)
1 pint of Blueberries
3 Fresh Peaches (cut and broiled with the basil til they are softened up [not browned])
1-1 1/2 cups of Basil, chop into thin strips & divide into 2 small piles
1/2 liter of Seltzer
Directions
Set your oven to broil- 500 degrees. Slice the peaches and toss them with a 1/2 cup of the chopped basil.  Lay the mixture on a cookie sheet.  Broil or roast the peaches about 5-10 minutes- until they're soft but NOT browned!  Mix the rest of the ingredients together in a pitcher except for the seltzer. Cover and let it chill for at least 2 hours.  When you are ready to serve, add in the seltzer & stir.  Serve cold!
|
Print