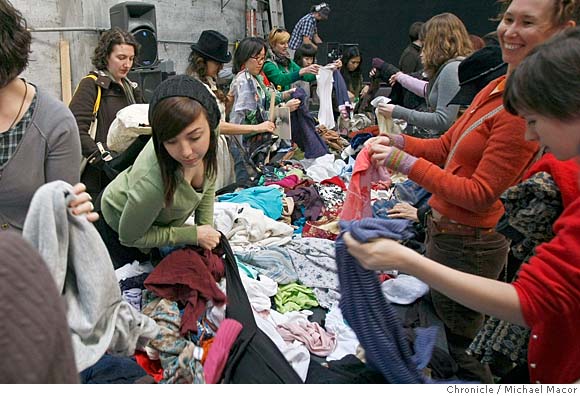 Become a Swapaholic!
I recently had the pleasure of speaking with fellow frugalista Melissa Masselo from Shoe String Magazine – one half of the team known as the Swapaholics!  Although the concept of organized clothing swaps is a growing trend in the world of Fab & Fru fashionistas, I have never actually been to one!  To be honest, the idea of getting a new, trendy wardrobe was not my first thought upon hearing the word 'swap', but thankfully times have changed…  Melissa set me straight on the new, chic swaps and even gave me some insider tips on how to be a successful swapper!
Melissa's love of swapping started after college with like-minded girlfriends – namely, women who had "a mind for fashion, but not the wallet."  What started as fun get together with friends, pizza, wine and clothes has now transformed into a thriving business and fantastic resource for stylish bargain shoppers.  Melissa and her Swapaholic partner in crime, Amy Chase from vintage blog Punky Style, started out by joining forces to host swaps in the Boston area.  The idea behind the Swapaholics is that you and your fashionable friends probably have tons of FAB clothes sitting in your closet, just waiting to be loved- by someone else.  Their swaps were so successful, they are now hosting them across the country, including a MASSIVE one THIS SATURDAY in LA!   When I asked what kind of brands they see, Melissa said it was not uncommon, for example, to spot AG and Paige jeans – which usually retail for close to $200.  Her favorite swap find? She once found a See by Chloe leather jacket – new – with the tags still on!
How does it all work?
Usually there is a small fee for an entry ticket, say between $10 and $20 — but if you bring clothes to swap the price is reduced, usually by $5 or so.  For just a few dollars, you gain entry and can take as much as you want…really!  When I asked Melissa if anyone has ever gone to one of their swaps and walked away empty handed she said "that has literally never happened!  There is something for everyone."  And this weekend, as an extra incentive,  you get a reusable swap bag filled with great coupons, products and gift certificates – how Fab & Fru is that?!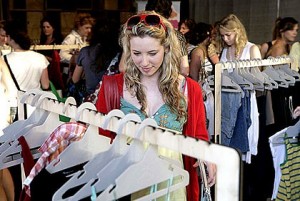 Many swaps are clothing only, but this weekend in Los Angeles, "there will be basically everything but the kitchen sink", says Melissa.   The event will feature lots of home items in addition to primo women, men and kids clothing.  Melissa assured me that there will be a good mix of sizes and items.  They are expecting at least 400 people, so you have to imagine there will be an amazing selection!
Tips for a Successful Swapper
Get there early!

Don't put down your REAL stuff! An on the job hazard of being a swapper is that you might take off your favorite jean jacket – with your cell phone in it- set it down – and someone else might pick it up thinking it is part of the swap -oh my!
Wear Layers- there are NO dressing rooms! For example, wear a bathing suit underneath your clothes so you can slip form fitting dresses or shirts over your head in the isle to  get a truer sense of the fit and feel!
Hey LA- Info on this Weekend's SWAP!

Frugal Fe$t Summer Swap 2010
Saturday, June 19th 2010
10 a.m. to 3 p.m.
North Hollywood Performing Arts Center
Website: http://frugalfestival.wordpress.com
Stay tuned for info on a clothing swap near you!

|
Print