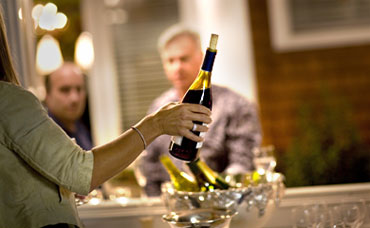 Last weekend, a small group of us headed out to Long Island to visit our friends Kenny & Jo who live at the beach.  We were all spending the night, and Kenny & Jo were cooking up a lobster feast in honor of our ritual summer visit.  My friend John and I shuttled in our contribution of beer and a beautiful bouquet of Hydrangeas (Jo's favorite) .  Our friend Angie had been given an expensive bottle of Champagne from her boss which she presented to Kenny upon our arrival.
After we got settled, we all claimed our spot on the deck to watch the sunset.  We kicked off our shoes just in time for Jo to bring out a tray of cocktails and appetizers.  It was heaven!  We all had so much fun and Kenny and Jo were the perfect hosts!
As we went to leave the next afternoon, Angie came out of the kitchen with the unopened bottle of Champagne sticking out of her bag.  Jo looked surprised.  Angie hugged her and said, "Thank you so much for everything!  We'll have to pop open this bad boy next time you're in the city.  Come over and we'll toast something!"
We all kind of looked at her quizzically.  Wasn't the Champagne a gift for our gracious hosts?  Angie looked at us and said, "Well, we didn't drink it… and it is 'tres' expensive!".  Kenny made a joke of it, saying they'd never drink Champagne on their own anyway.  Angie said she knew that so she didn't think that they'd mind if she brought it home.  Jo said nothing.  We all said our goodbyes and hit the road.
Was Angie being totally cheap for taking back the Champagne, or is her rationale justified because she didn't think that Kenny & Jo really liked Champagne anyway?  Was Jo wrong to assume that the Champagne was a gift from Angie?  What would you have done if you were Angie?  Would you have cared if you were Jo?
Tell us what you think!
|
Print