by Brandi Savitt – July 15, 2010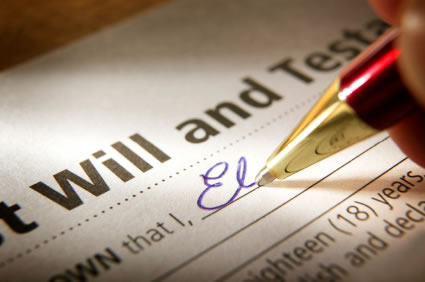 Where There's a Will, There's a Way
So you're young, healthy, and don't have a ton of dough.  Do you really need to think about such morbid things as writing your will?  The answer is YES!  No matter if you have a growing nest egg or if you're totally broke, unless you don't care if the court decides who will care for your children, or who gets your car (or even your goldfish), creating a basic will is something every adult should strongly consider!
Writing a formal will (in accordance with the law) may feel complicated and like a waste of time & money now, but in the event of the unthinkable, it WILL save your loved ones MUCH additional heartache, time and money.   According to attorney Thomas Hession, a founding partner in the the New York law firm Hession, Bekoff, Cooper & Lo Piccolo, "creating a proper will is an opportunity to take control over important decisions like the guardianship of your children, the distribution of your assets, and the avoidance of wasting unnecessary time and money tying up your estate up in court."
What Happens If You Don't Have a Will?
In the event that you pass away, the State court where you reside intervenes to grant guardianship of your children and to determine how to divide your estate among your family members - no matter if you and cousin Jimmy haven't spoken in decades… This court is called Probate Court, and all matters & disputes concerning wills and estates are decided in probate.
However, if you have a proper will that has been executed in accordance with your state's laws, the court will uphold your wishes and process your case much faster, reducing time and money for any appraisal, accounting, court and other legal fees. If you do not have a properly executed will, family disputes can arise, and your case can get tied up for years in court costing between 3-7% of your estate.
For more info, check out the MSN article 14 Mistakes Not to Make with Your Will by Liz Pulliam Weston.
Top Reasons to Have a Will & Consider Estate Planning
1.  Appoint guardianship of your underage children
2.  Have control over the distribution of your assets
3.  Avoid multiple taxation on your money
Estate planners have been joking that 2010 is a great year to die, or rather to inherit those millions you've been hoping some long lost aunt will leave you… All joking aside – there is no Estate Tax this year! Typically, the federal government institutes a blanket dollar amount that is exempt from taxation, and anything over that amount will be taxed.  Next year however, anything under $1 million will be exempt from taxation, but everything over $1 million will be taxed 55%!
|
Print
Pages: 1 2