by Brandi Savitt – July 26, 2010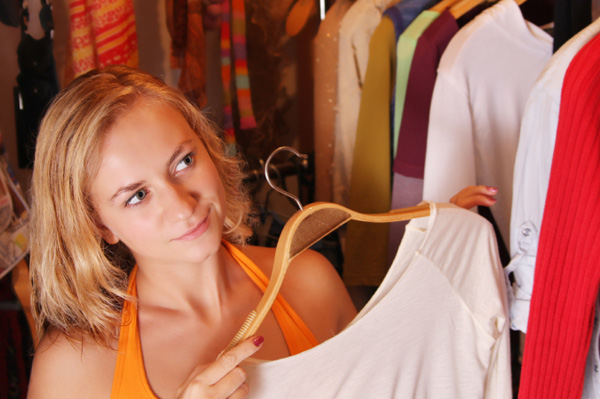 Trendy Tips to Help You Save with Style
While most of us are searching for ways to stay cool in this 100 degree weather, fall fashion is heating up and filling up the racks at every store.  But DON'T worry about needing to buy a whole new look this year, many trends from last year are back, and with just a little added flare you can save money by going shopping in your own closet.  Whether you're going back to school or back to work this September, Fab & Fru has some simple ways to resurrect your old winter wardrobe, and give it a jolt of runway wow!  From collars to colors, we've pulled our favorite fall 2010 style trends from Vogue and Fashionising to let you know- you don't have to spend a lot of money to look sensational!
Give Your Summer Dresses Another Chance
Extend the life of your summer dresses by layering your outfit with a sweater or blazer.  Get a autumn street chic look by losing the flip flops in favor of tall boots with your short skirt.
Play with Color
From earthly golds and blues, to purple and pale gray, Pantone's picks for fall fashion allow you to mix match and layer with both old and new pieces to achieve a style all your own!
Mix & Match Military Style
Forget the camouflage, and re-think a sleek look that plays with army green & navy blue.  Add some lace, faux fur or leather – and you'll certainly make more than a political statement.
Button It Up
This season, reinvent your old button up collared blouses, by simply buttoning them up all the way! Wear one under a vest or blazer, or accessorize with a  few extra long chains.
Not So Simple Socks
Whether it's knee highs, over the knee, thigh highs or short socks over tights and skinny pants, add color and style to your look by playing with your socks.  Show off your fancy footwear by wearing them with heels, ankle or short boots.  Experiment with color and texture to dress up a plain skirt or solid color dress!
Winter White Tights
Just because the weather turns cool, doesn't mean you have to default to wearing black tights under every skirt or dress this year.  White tights are in this season, and investing in a pair is a cheap way to transform your old look into one that is fashion forward.  For some extra flare, throw a pair of socks over your tights and wear your favorite boots!
|
Print
Pages: 1 2