contributed by LearnVest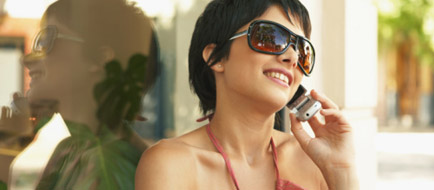 When something doesn't go our way (at, say, a restaurant, or with our cell phone plan, or at a store), we don't want to be rude, but we also don't want to be pushovers. Whether we're protesting unfair credit card fees or trying to return a t-shirt that spontaneously developed a hole between the store and our home, it's important that we master the art of socially-acceptable yet effective complaining.
The book Women Don't Ask shows that women negotiate about half as frequently as men. From salaries to cell phone bills, readers tell us that they don't stand up for what they deserve because they're worried about what other people will think. A complaint shouldn't be your way to lash out—it's a simple negotiation.
These are the 5 things you need to know in order to be an effective negotiator:
1. Appeal On A Personal Level.
Work/life success coach Marilyn Suttle calls it "asking for a champion." Set your service providers up to feel great about themselves for helping you by letting them know how happy you'll be to receive their help. She recommends phrases like: "I need a hero to help me out of this jam," "I have a feeling you're about to make my day," and, "You seem like someone who can really make a difference for me."
2. Think Of It As A Critique Rather Than A Reprimand.
Narrow your problem down to something that can be fixed. Whenever possible, state your problem in terms of what you want, rather than what you don't have. For example: "I really need my package to arrive by tomorrow, but the representative told me it hasn't been shipped yet—even though it was supposed to go out three days ago. Is there anything you can do for me?" Compare that to: "Your shipping is too slow!"
To read the rest of the Tips, go to LearnVest!
Follow LearnVest on Twitter @LearnVest! Follow Fab & Fru on Twitter@FabandFrugal!
|
Print