Get S'more Bang for Your Vacation Buck
It's no secret that camping is one of the least expensive vacations you can take with friends or family.  Typically easy to plan, you can camp close to home for the weekend, or go BIG and explore the parks across the country.  Whether it's the ghost stories around the campfire, a breathtaking vista, or the surprise storm that keeps you snuggled in your tent playing Gin Rummy for hours, camping trips are always fantastic memory makers and a great way to get back in touch with old mother nature. It doesn't matter if you're on the wimpy side when it comes to roughing it, or you're an avid outdoor adventurist, there IS a campsite for everyone out there!
Get Ready, Set, GO!
If you have the itch for a last minute summer weekend trip, you can usually find a nearby campground with an open spot.  However, you'd be surprised to find that if you don't want to pitch your tent right next to the bathroom, or if you're interested in going to a popular park, planning well in advance is essential! Do your homework, account for any special permits you may need (like a fishing permit), and make sure you have all the necessary gear to make your trip a success – kids or no kids!
Budget
If you already own basic camping supplies or you're headed into the wild with an experienced camper, your trip may just cost you the site fees, food and gas.  However, if you can't borrow equipment or need to buy the proper clothing and supplies, plan to spend a good chunk of dough on necessary gear.  If you DO choose to make the investment to purchase a tent, backpack, cooking supplies and special attire, plan to LOVE camping and go often!  Initial costs are not cheap, but they will pay off down the line! -With purchasing modest gear & site rental fees-figure $600-$1,000 for a family of four & up to $300-$400 for an individual.
A Place to Pitch Your Tent
If you're looking to go car camping (meaning pitching your tent next to the car- NOT hiking 2 miles into the woods to set up camp), commercial campgrounds are great for families and do provide some amenities like electricity, running water, and bathrooms.  These sites typically range from about $20 to  $40 per car, per night.  If you're looking for a more rustic experience and plan to hike into the woods with your gear on your back, park fees range from $5 to $15 per person, per night.
Gear & Supplies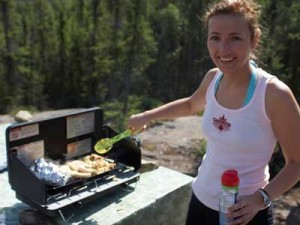 A tent, sleeping bags, cooking gear, food, water and the proper clothing & footwear are the basic essentials of any outdoor adventure.  If you don't already have what you need, first try borrowing from your friends.  If you become a member of your local REI store, you can get deals up to half off the regular prices, and you'll have a heads up on ALL of their store and online sales. 
The Basic Gear You Need
A Tent

All tents are not created equal! To avoid overspending, consider the season you will be using your tent the most, how often you'll use it, and how many people you need to sleep (a 4 person tents start at about $150 new).
There are basically five types of tents to choose from.  Each type comes in a variety of sizes, weights, and prices:
Car-camping tents
Summer tents
Three-season tents
Convertible tents
Mountaineering (winter) tents.
|
Print
Pages: 1 2