by Stephanie Berenbaum – July 7, 2010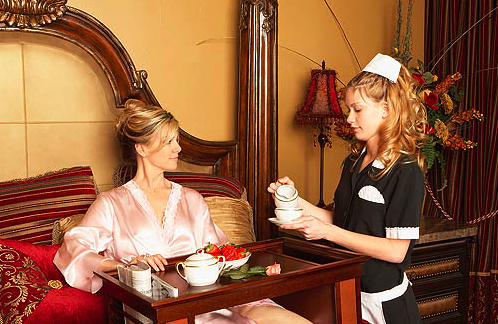 And You Might Actually GET Rich!
I was scrolling down my friends' Facebook updates when I came across a post that really caught my attention (not that I don't love all the Farmville updates).  My friend (& recent Fab & Fru contributor) Judith Parks had posted an article about Thomas J. Stanley's best seller Stop Acting Rich: And Start Acting Like A Real Millionaire.  I had actually been wanting to read this Fab & Fru book for a while now, but it sort of fell off my radar along with my grand intentions to workout.  Judy's reminder couldn't have come at a more perfect time…
You Can't Judge A Book by It's Cover
I am not sure what is in the air, but I have been having a lot of eerily similar conversations with friends lately about the trappings of wealth – both real and imagined.  From friends at my sons' school here in LA to those who live across the country, the topic of lifestyle and finances seems to be once again on everyone's lips, but in a different way than the recent trendy talk of frugality.  All of the conversations have actually circled back to the perception of wealth itself.  Maybe it's the effects of the recession, but it seems a lot of people (who wouldn't have a few years ago) are starting to admit the unthinkable — that even though they ACT like they have a lot of money- they DON'T – and worse, their actions are actually preventing them from becoming rich.  We've said it before, but we'll say it again- living beyond your means– means trouble!
What Is Your Wealth Equation?

Of course, the desire to keep up with the Joneses has been a force forever (just think about how bad it was in high school). But the misuse of credit cards has made it that much easier to, as Stanley writes  'Act Rich'.  After all, now just about anyone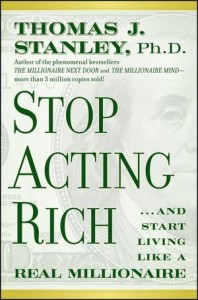 can drive a Lexus, buy a Bugaboo, wear a Rolex and eat at Morton's – it's not just the American dream, it's the American reality…or is it?
One thing I like about Stanley's approach is that in addition to tons of anecdotal evidence, he actually has a wealth equation for those of you out there who need something more tangible.  This simple equation helps quantify what you may be feeling and sensing around you.
Just take 10 percent of your age times your annual household income (.10 x age x income) to arrive at your expected net worth –  if your ACTUAL net worth is above this figure, Stanley would consider you affluent.  Be honest — where do you come in? Don't worry, the math lesson is over for the day…
Are You IA or BA?

In addition to the wealth equation – you may find that you fit easily into one of two categories that Stanley talks about … namely — are you Income Aflluent (IA) or Balance Sheet Affluent (BA).  The Income Affluent are generally high income — but low net worth — basically, living beyond their means.  Even though their means are above average, these folks are spending way too much! 
The flip side of the IAs are the BAs.   The Balance Sheet Affluent plan ahead, save and invest.  They are not spending everything as fast as they make it.  They are actually living below their means and investing in there futures.  Like the immortal words of Brandi's grandmother Lena, "It's not how much you make – it's how much you have in the bank!"
Do you clearly see yourself in one category or the other?
|
Print
Pages: 1 2