Inspiring Women to be Their Financial Best
You've all heard of Citigroup, right?   But are you familiar with their division Women & Co., which is TOTALLY dedicated to women and their personal finances?  Fab & Fru is impressed with what the organization has to offer and we wanted to share with you what we learned about this powerful resource – and about their inspiring president, Linda Descano.
Women & Co.
Ten years ago, Citigroup sponsored a women's conference, and the feedback they received was that women very much wanted to talk about and learn more about personal finance–but they felt that no one in the financial services industry was listening!  Sound familiar? Luckily, Citigroup saw the opportunity to connect with the multitudes of women who felt disenfranchised from the existing financial services industry, and put their full support behind the development of Women & Co -  a membership based organization dedicated to empowering women with financial tools and resources.
Madame President

The more I learned, the more Women & Co. was sounding extremely interesting to me, as was their president- Linda Descano!  Linda helps channel the vast resources of Citigroup to best address the needs of women.  After all, according to Women & Co., "The financial needs of women's lives are distinct. We typically live longer, spend more years in retirement, and take more time out of the workforce to care for our families." As it turns out, Linda's professional interest was also personal in nature…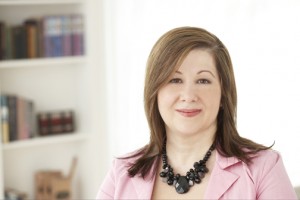 Determine Your Own Destiny
Coming from a working class neighborhood in Philadelphia, Linda certainly wasn't born with a silver spoon in her mouth.  And after living through her own divorce and finding herself in a financially precarious position, she had to figure things out – like so many women - on her own.  Luckily, she had something priceless that helped her get through the tough times and succeed- FABULOUS women in her own family who inspired her to be her best!
A Grandmother's Gift
As someone who was exceptionally close to my own grandmother, I was intrigued by the fact that Linda had founded scholarships in honor of her two grandmothers - the women who helped her become who she is today. She explained how both her grandmothers were working women – unusual for that time. Humble financial situations did not stop them from being the best they could be, working hard, and having confidence in their own intelligence to get them through life.  From these women, Linda was given the gifts of resilience, inner confidence, and the drive to succeed – no matter what the circumstance. As a tribute to these two women, she endowed the National Organization of Italian American Women with the Nina Anna scholarship – in honor of her grandmothers, Nina and Anna!
Teaching Beyond The Classroom…
In addition to the scholarships in honor of her grandmothers, Linda also created one in honor of her 5th grade teacher.  We've all (hopefully) had that teacher in in our lives who really made a difference, really believed in us and really inspired us. For Linda, that teacher was Ms. Astrella, who inspired her to go to college.  So many of us might think about doing something like this, but I loved the fact that Linda actually did it. She established the Prudy Astrella Legacy Scholarship to honor her the impact this teacher had on her life, and to help impact the lives of other young women.
Besides just being a nice thing to do, I found these scholarships to actually play a crucial part in explaining how Linda got to where she is and why she is so passionate about empowering women.  She was fortunate enough to be empowered by extraordinary women in her life, and understands the importance of passing these lessons on – both in her personal and professional lives.
|
Print
Pages: 1 2