by Brandi Savitt – August 2, 2010

All Aboard a Commute to Adventure
In metro areas across the country, thousands of commuters take the train to get in and out of the city, but how many of us use our local and regional train systems as a cheap & traffic free way to get out and explore? You'd be surprised how commuter trains can easily transport you to somewhere unexpectedly beautiful and fun! So if you're looking for an inexpensive and different way to spend the day, ditch your car and pick a stop way out on the train line that you've always wanted to visit.  Gather up the kids, your boyfriend, or go alone – your task is to have a stress free Fab & Fru adventure!
As a longtime New Yorker, I am extremely experienced in relying on public transportation to not just get around the city, but also to leave it.  Getting away for the weekend when you live in the city is common practice- especially in the summer. Whether it's taking the Long Island Railroad to the beach, or the bus to go up to the Catskills mountains for a long weekend, you name it, I've done it – or so I thought….
This past weekend I experienced the glory of the Metro North train line – a commuter line that leaves from Grand Central station and traverses up the gorgeous Hudson River, stopping at all the historical little towns that line its banks. After four years of wanting to visit the Dia: Beacon, a modern art museum set in a old Nabisco factory in the river town of Beacon, I finally got around to making it happen!
My friend and I jumped on the train at Grand Central Station and rode 85 minutes up the scenic river until we reached Beacon.  No car, no traffic, no getting lost, no fuss! A five minute walk to the left was adorable Main Street (with the mountains as its back drop), and a five minute walk up the winding road to the right was the museum. I couldn't believe it – why had I never come to this oasis so close to the city before?
Best Way to Take a Day Trip By Train
For less than the price of a tank of gas, taking a day trip via train is the perfect way to explore the sites, food, shopping and natural beauty of area not too far from home -  headache FREE.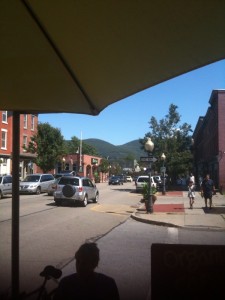 Pick Your Destination
The first thing to do is to look at your local train schedule and find a point of interest that is  far enough away, but not too far that you'll spend the entire day traveling. Research the town online, and make sure you can easily walk or take a cheap taxi to where you want to go.
Check the Schedule
What's great about so many of these commuter lines is that a train leaves every hour or two in both directions.  Having such flexibility makes going for the day super easy!
Kids Love Trains
If you're looking for something to do with the kids, riding on the train alone may be exciting enough.  Think about what an adventure it could be to also explore somewhere new!

Go Somewhere You've Never Been
It's always so surprising how many cool places are near by that – as a local – we never explore.  Whether you're into history, art, nature or food, it's fun and affordable to play tourist close to home!
|
Print
Pages: 1 2