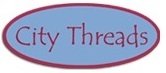 SIGN UP NOW for Fab & Fru Fridays, and you'll receive an Exclusive PROMO CODE in this week's newsletter for 20% off back to school clothes from CityThreads.com!
Don't Miss Out!  Join Fab & Fru NOW to ensure that you will be sent the CODE this FRIDAY!
Sign up now and you will also AUTOMATICALLY be entered to win a Pro-Membership from ThredUp.com!
|
Print