by Stephanie Berenbaum – August 25, 2010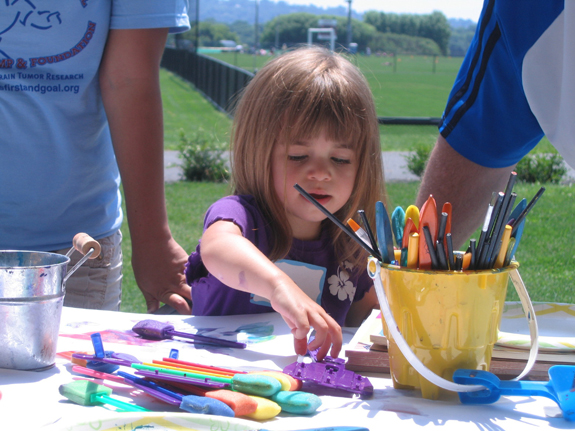 Favorite Activities…for Free!
As summer is winding down, my household expenses seem to be in high gear.  A new HVAC system, one dog emergency knee surgery, and an emergency electrical rewiring (just for starters) has set us back a mind numbing $20,000 worth of unexpected expenses.  And with a few weeks left before school starts for my two preschoolers, I found myself searching for maximum fun – on a minimum budget!
Glancing back over some of my kids' favorite activities from this summer, I realized that a lot of the activities I paid for could be easily replicated at home – for free, or almost free! So here are some ideas of how to recycle activities – without replicating the costs!
An Eye For Science

My kids love going to the science museum – and playing with those pricey 'intro to science' type kits. It occurred to me that the last one of these kits I bought cost about $25 – and was basically rendered useless after one time playing with it! When it came down to it, I realized I had spent $25 to purchase some plastic cups, utensils, and what basically amounted to baking soda and vinegar.  It is so easy to do the classic baking soda and vinegar volcano experiments at home – and you probably have the ingredients right in your own pantry!
Speaking of science, anyone remember the 'Pepper Push' experiment from their youth? Just pour some water in a bowl, sprinkle some pepper in and stick a bar of soap in the bowl (does anyone still use bars of soap?- A drop of  liquid soap would work too) and watch it repel the pepper away!  This is a great activity to do while you are cooking, and to help show your little ones the relationship between science and cooking.
Playhouse Money?

My friend Amanda spent $50 on a cardboard children's playhouse. – It was great because it was recyclable, but not so great of a price – particularly when it only lasted a couple months before it got destroyed! Our Fab & Fru alternative – save big shipping boxes and create your own eco-friendly play structure – complete with tunnels, various rooms and anything else you can think of!  Then you won't feel so bad about tossing it into the recycling bin when it cost you nothing!
Cultivate Your Young Artist

I was at LACMA (Los Angeles County Museum of Art) the other day with my kids in the Boone Children's Gallery.  They had a cool brush painting activity to help the kids learn more about the beautiful Asian art on display. We realized we could easily research and recreate art from other cultures at home too. I know it sounds simple, but honestly it never really occurred to me to do so before!  After being inspired by the beautiful brush paintings at LACMA, we plan on continuing the inspiration at home with art from many different cultures and traditions!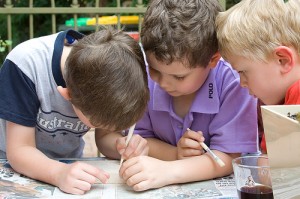 Recreate Your Favorite Museum Exhibit!
My kids just love the fabulous Noah's Ark exhibit at LA's Skirball museum.  It features super-creative sculptures of different animals, made out of the most unlikely materials! When we got home we realized we could recreate this amazing exhibit (ok, maybe it helps that I have a son named Noah).  We started saving up materials to sculpt with – anything from paper towels holders, to old shoe boxes, to old, worn out clothes that we cut into decorative pieces.  We also cleaned out our junk drawer and found a great use for all those lonely buttons and string! With a little glue and a lot of fun, we were able to make our own animals – from stuff we normally would have thrown out in the trash!
|
Print
Pages: 1 2