by Kathy Pape – August 23, 2010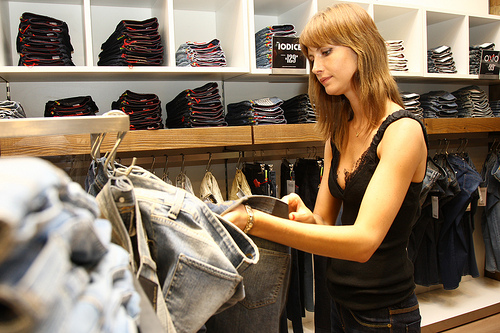 Spend Less to Flatter Your Figure
Fall is just around the corner – and that means it's almost time for jeans weather!  Though a necessity for every woman's wardrobe, finding your perfect pair of denim is not always the easiest thing to do.   Like the time when the salesperson convinced Steph to spend $150 on a design that had the back pockets as the front pockets.  They convinced her that she looked great – sort of a rock and roll look – instead of what it really was -  literally an ass backwards purchase! But haven't we all overspent on jeans during a frenzied attempt to find a flattering fit?
I've always had a hard time finding the right pair of jeans.  I'm short, so I always have to get them hemmed – and for some reason my jeans always stretch out and don't look as good as they did in the store.  So we asked the experts at 6PM.com for some Fab & Fru secrets on how to buy the perfect pair of jeans so you don't spend a bundle on your search for this wardrobe staple!
Still Have High Hopes for Low Rise?
Let's face it – NO ONE looks good with their thong showing!  Thank goodness the low rise isn't as low as it was a few years ago!  I was guilty of having my underwear hang out just like everyone else and my husband once asked me "Why do you wear jeans like that?"  I wore them because that's all that was in the stores!  Women who have trim waists (really trim, people!) are really the only people who can get away with low rise (think Britney Spears before babies.)
Hide Your Muffin Top with Mid Rise
This is my favorite style because I have what's lovingly called a muffin top.  Jerry Seinfeld coined this phrase and – while hilarious – it's not very funny when you have one.  After two kids and endless dieting I have come to terms with the fact that my muffin top will never go away, so I try my best to hide it.  Mid Rise jeans are just the right height because they're cut above your love handles which makes you look slimmer, but they don't go all the way to the waist so you have the "mom jeans" effect.  According to our experts, mid rise should always have a little extra space around the waist so they don't pinch and bulge.
You should be able to stick your fingers in between the waistband and your skin easily.  It's also a good idea to buy a pair with a little bit of stretch in the fabric.  When I finally found the perfect cut, I bought three pairs!  I swear by Joe's Jeans in the Honey cut, and to me it is worth the splurge!  AG Adriano Goldschmeid also has a fabulous fit, and for an even cheaper price point, try the Long Lean Cut by The Gap.
Wear Your Skinny Jeans Right
I own one pair of skinny jeans, and I've only worn them three times.  They make me look and feel like a sausage, but the stylists at 6PM.com tell us skinny jeans can actually look good on more body types than people think!  Skinny jeans are supposed to hug your body, your butt and your waist just like all your other jeans do- without causing bulges.  The problem is that many women buy their skinnys too tight.
Try wearing your skinny jeans with boots and a longer top.  As long as the waistband isn't too tight, but the legs are snug- these jeans can be very flattering. The key is to make sure you buy a pair with a little more stretch in the fabric so your jeans will give a little as you move…
Elongate Your Legs with Boot Cut
Any body type can wear the boot cut and look stylish.  The key to boot cut is to wear them with a higher heel.  The jean should then be hemmed to almost skim the floor. If you can see your entire shoe, then your jeans are too short. This is why it is crucial to bring the shoes you plan on wearing with the jeans to the tailor with you.  Nothing's worse than getting jeans hemmed just to realized they look like clam diggers when worn with your favorite boots!
Flare Cut for the Slender
Like low-rise, these jeans look best on slender women who are narrower in the hips.
When rockin' the flare cut, you need the contrast of snug fit through the thighs so the flare accentuates the intended look-  similar to a toned down bell-bottom.  If the jean goes from wide to wider, it doesn't flatter your legs — and makes you look shorter.   That's a lose-lose situation!
Look Feminine In Boyfriend Jeans
The boyfriend jean is still, hands down, the most comfortable jean because they are loose fit and don't cut off the circulation around our waists, hips and thighs.   The trick to boyfriend jeans is to make sure they are loose but not so baggy that you look messy or unkempt!
I still think this is a hard look to wear – even the tall, emaciated actresses I see wearing them in the magazines look sort of just so-so.  For an average woman on the street, I just don't think this look translates very well.  Plus, I have a feeling this is one denim trend that won't be around much longer.  I would leave this one to the low-rise crowd – if you are super skinny, it just might work on you, but then again, probably just about anything works on you.
'Cut' Your Losses
These suggestions should make all the difference when you brave the stores this fall to find the perfect pair of jeans.   One final piece of advice that a store clerk once taught me is to wear new jeans around the house for a few hours to see if they stretch or pinch before you cut off the tags!
|
Print