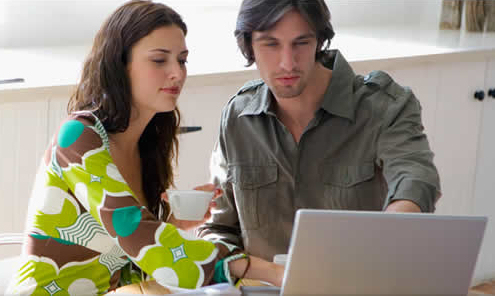 On the Money Tips for Planning Ahead Now

Does the idea of starting to plan – now – for 2011 send chills down your spine?  Relax – our Fab & Fru friend Pat Chiappa is here to help.  She has written a guide called Year Ahead/Year in Review: A Couples Guide to Dream Big, Plan Smart and Live Well which makes this daunting process easy — and even enjoyable!  And don't let the title fool you – it is great for the single girl too!
Pat admits that she is not exactly reinventing the wheel by suggesting that you actually write down and review your financial plan, but let's be honest - How many of us actually do this on a regular basis? 
While the concept of YA/YR is fairly basic, Pat's approach to finance is not. Rather than view financial planning as a chore, she views it as an empowering tool to help you turn your dreams into reality.  It's about focusing on what you want and how you will get there, much more so than focusing on what you don't have! The YA/YR approach to planning, "is all about self improvement – but without the guilt you might feel when you fall short of your goals!"
Get Started!

According to Pat, just by writing down your financial goals, dreams and YOUR reality, you:
Learn how to dream
Learn the value & power of writing down intentions and plans
See the absolute importance of incorporating finances into your life map
Pat and her husband, Mark Zaifman of Spiritus Financial have been using the YA/YR method in their own lives for 20 years.  Enough friends and family kept asking them what their secret was to attaining their goals, so Pat decided to put pen to paper and created an actual guide.
Best of all, Pat's guide doesn't require you to sign up for pricey seminars or products.  All you really need to get started is: a blank notebook, a highlighter a couple pens, a calendar and an accordion file – oh and yes- you will need to have your financial records nearby to refer to!
Here are the categories you'll be focusing on when planning your Year Ahead:
Travel
Day Trips Projects
Personal Goals & Dreams
Purchases
New Things to Try
Financial Goals
You simply go through the calendar and plan out month by month what you would like to accomplish and estimate the costs.  However, before you can focus on living the life you really WANT, you MUST take a good look at the life you currently live – which means keeping track of your monthly household budget for a few months before you can start planning ahead!
Why NOW is the Perfect Time to Start Planning for 2011
Ok, maybe you're not so psyched about the idea of keeping track of your household budget for the next few months – but think of it this way…  If you start the process now, by the time the new year rolls around, you will be armed with the info you need to begin your 'Year Ahead' plan.
You can find examples of budget and goal planning templates on Pat's website, but remember to customize it for yourself – the specific financial realities of your alpaca farm might be far different than your Manhattan dwelling friends!
|
Print
Pages: 1 2