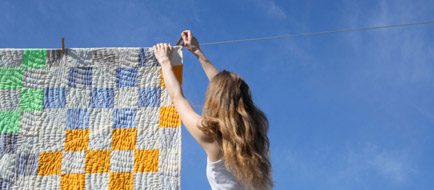 In honor of the style-studded event that is New York's Fashion Week, we bring you our guide to lengthening the life of your wardrobe. Whether your favorite jeans are Sevens or Gap, it's a dark day when those seams give out. Although we can't promise to make your clothes last forever, we can help you squeeze every bit of use out of those prized fashion investments.
When To Go To The Tailor And When To Go It Alone.
After you take your favorite blouse out of your suitcase, you notice that a button has fallen off. Do you:
a) Throw it out? ($60)
b) Bring it to the tailor? ($5)
c) Stitch it on yourself? ($2)
It's cheap to get a needle and thread, and it should be simple to sew back on the extra button given to you with the blouse (or a decent replacement). We know that not everyone's a seamstress, so here's a good how-to video. Your needle skills don't have to stop at buttons; the internet is full of step-by-step instructions on how to mend a tear or repair a hem. A simple tear requires only you and your needle. Save tailor visits for things you can't do yourself, such as major alterations, difficult fabrics (like silk and wool), outerwear, and multi-layered pieces.
To read more tips, go to LearnVest!
Follow LearnVest on Twitter @LearnVest! Follow Fab & Fru on Twitter@FabandFrugal!
|
Print