by Stephanie Berenbaum – August 4, 2010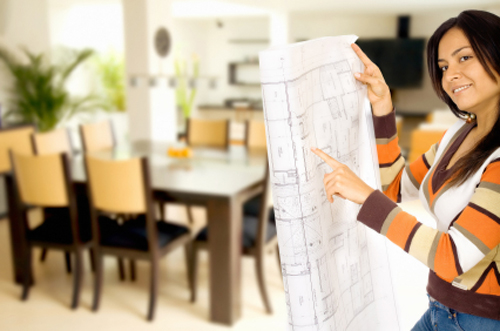 Renovate with Creative Practicality
So many of our Fab & Fru friends and family have been involved in remodeling projects lately – both big and small! We figured it might be helpful to compile some of their favorite money & hassle saving tips – so you can learn from their masterpieces – and their mistakes!
Delta, Delta, Delta!

My Mom recently renovated her kitchen, and as many of you know, when it comes to choosing a faucet you can not believe the number of choices out there! You know the feeling – you walk into Home Depot and all the faucet displays are glaring at you, taunting you to choose just one – if you can.  But Mom's perseverance paid off – literally!  After gazing through some of the super high-end brands (complete with high end price tags) she found one from Delta that absolutely fit the bill both in style and price!
You might think of Delta as being an old stand-by brand, but we found they have chic offerings to rival even brands like Grohe- without the exorbitant price tag! Mom loves her Stainless Steel Delta PALO kitchen faucet, (we found it offered online for under $200…) and  she didn't feel like she was pouring money down the drain.
You too can be a proud Delta faucet owner!   Fab & Fru is giving away TWO Windmere brushed nickel bathroom faucets August 12th!
Decide Where to Put the Glamour & Where to Save!

As Brandi mentioned in her bathroom remodeling article, one of the first decisions to make is deciding where the glamour should go- this means identifying the part of the room where splurging a bit will define the entire room, allowing you to cut expensive design details in other areas that are less noticeable.
One of our friends recently splurged on putting marble in her bathroom – and loves it.  Her secret… She saved a significant amount of money by using marble tiles instead of slabs!  Still, after the cha-ching of carrara, she was left wondering how to finish off the rest of the space as economically as possible. Would you believe that Target had just the right bathroom accessories for her!  I have seen her accents in person, and the Target brushed nickel towel holders really look fantastic with the marble.  You would never know they aren't from Restoration Hardware – yet cost a mere fraction of the price!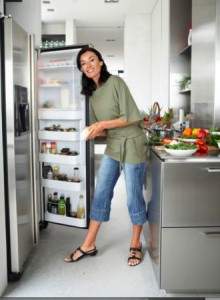 Online Appliances
Making a huge purchase like a refrigerator online can be scary, but I recently purchased both a new stove and fridge from two different online discount stores- Homeeverything.com & Number1direct.com- and it was smooth sailing all the way!  I especially commend the homeeverything phone operators, stationed in their Brooklyn headquarters, for their friendly phone manner and telling me to take my time and 'chillax' while making my decision…Love them! Not only did they have good prices, but they also offered great rebates, free shipping — and no tax! Both the stove and fridge arrived in perfect condition and were delivered by extremely nice delivery people - what more can a Fab & Fru girl ask for?
Budget for Condo Considerations
Let's say you're remodeling a condo in the middle of the city – get ready for a whole slew of considerations that differ from a stand-alone house.  For starters, be sure to include parking garage fees for the workman in your budget.  This expense can easily add up to hundreds of dollars.  Also, condos have very specific times and days that remodeling work can be done. Make sure you speak with the building manager up front to get all the details – including which elevators you can use and for how long. You don't want to waste money and time  getting your contractor to the site only to find out they can't even enter the building on that day!
|
Print
Pages: 1 2