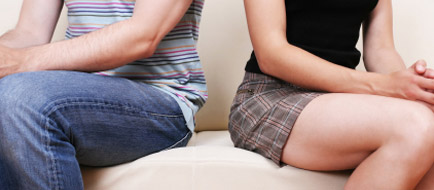 Couples Often Have Different Spending Styles
Newsflash: Couples fight about money.
Oh wait, you already knew that.
Half of marriages end in divorce and most of these couples will cite money as the #1 culprit. More often than not your partner will have a different relationship with money than you. Forget whether one partner makes more than another we're talking money management, not money creation. You're organized, he's not. One of you is frugal, the other spends like there's no tomorrow. You know your credit score and check your credit regularly, while she's totally out of touch.
All of this can be a major source of contention, but there are ways to keep the relationship thriving despite your financial differences. Here's how to prepare and ultimately have the "money talk" with your partner.
Make a Date.
When you're both in a good mood and have undivided attention, hold a money meeting to check in, review goals and discuss what's working and what isn't. It could be over brunch or after dinner when the kids are in bed. An adult beverage is not required, though highly recommended. Whatever time you choose, make it productive. If you've been thinking it's a good time to refinance the mortgage, use this time discuss your options. If you, as the primary household bookkeeper want a break for a month and make the other run the ship, ask to switch things up for the next month..
Come Prepared.
Agree to come the meeting with some material to work off of, including a spending diary from the last 7 days and your credit reports. This way you have some concrete material to review and talk about. If you speculate your partner's been spending up a storm and his spending diary confirms this, you can better discuss the issues that have been bothering you. Also, if you know there's something you definitely want to discuss send your spouse an article during the day that might be insightful. For example if you read an interesting article about refinancing the mortgage (something on your to-do list) email it to your spouse and use it as a reference when you both sit down to talk later in the evening.
To read the rest of the Tips, go to LearnVest!
Follow LearnVest on Twitter @LearnVest! Follow Fab & Fru on Twitter@FabandFrugal!
|
Print