Group Shop & Save
Group buying sites are the latest online craze in discount shopping!  Members can purchase daily local deals on anything from restaurants & yoga classes to concert tickets & spa treatments.  There are many websites out there dedicated to teaming up with local vendors to promote and sell seriously discounted deals, but Groupon has catapulted this trend into a brilliantly huge business.  And while these interactive, game-like sites offer a fantastic way to discover amazing discounts on cool local products and services, the question remains: Are YOU really saving money?
We talked to Julie Mossler from Groupon to get the Fab & Fru skinny on how it all works, why the trend means great things for both consumers and small business owners, and how to get the most bang for your buck!
What is Group Buying?
Group buying sites partner with merchants around the world to offer consumers incredible savings on local products and services in their home cities.
Business owners agree to offer shoppers a specific product or service at a seriously discounted rate (often 40%-60% off- & more) if the group buying website generates more than an agreed upon minimum number of sales. Once the minimum number of sales is reached, the deal becomes official and all the credit cards of the shoppers who signed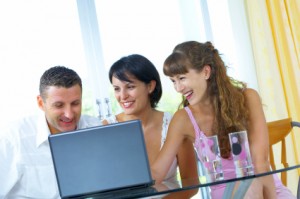 up for the deal are charged for their purchase and receive an email for a printable voucher to redeem it from the merchant. Example: I recently purchased six Pilates classes (valued at $90) for $40!  And Steph recently purchased a shampoo and blow dry usually priced at $35 for only $20!

If sales don't reach the minimum number required, then the deal is canceled and no one gets the discount nor is anyone's credit card charged.
The Birth of Groupon
Groupon was born out of a site called The Point.  The Point was created to organize collective action to accomplish something great, like renovating a school or donating money for a cause. Founder Andrew Mason realized the power of the group could be leveraged to gain discounts among local merchants, thus he created Groupon!
Why Do Shoppers Like Groupon So Much?
According to Julie, "Groupon's customer service is unparalleled – you can speak to a real human anytime! We also give you your money back, no questions asked, if any part of your Groupon experience (purchase or redemption) was less than satisfactory".
Groupon humor is a little weird and very funny – customers often read the daily email even if they don't plan to buy the deal.
Groupon is always trying to better their service.  Julie says, "we just announced Personalized Deals, currently in a handful of our larger cities, with plans to roll out to all cities within months. Personalized Deals determine what feature a customer will receive based upon preferences like zip code, gender, and previous buying habits. It means deals are fine-tuned to what you like: so no more mani/pedi deals for men!"
Groupon is live worldwide in 165 cities and 22 countries. Chicago, Boston, New York and Seattle are the largest markets.  They are averaging four new cities every two weeks!
|
Print
Pages: 1 2