by Brandi Savitt – September 22, 2010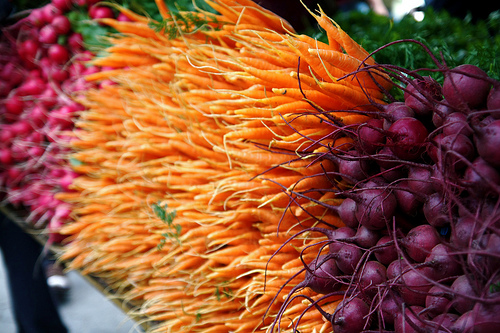 Get Inspired from Country Roads to City Streets
As the autumn chill in the air guides us to spend more time indoors, now is the perfect time to give your home a Fab & Fru face lift before your holiday guest rush begins! Creating a stylish comfortable space that really reflects your spirit, is a key ingredient to your own enjoyment of your home as well as creating an inviting environment to entertain your friends and family.  It may sound pricey and elaborate, but it doesn't have to be!  By using color accents to liven up your living room and kitchen, you can easily update the main hangout rooms in your house or apartment without spending a fortune on a complete decorating overhaul.  All you need to do is get inspired and know where to add your splash of sensational WOW!
Farm Fresh & Fabulous
There is nothing more stunning than walking through a farmers market this time of year.  Think neutrals like milky whites, buttery yellows and earthy browns.  From sweet orange carrots and vibrant green peas, to the many shades of apple red and eye popping varieties of purple eggplant, it would be almost impossible not to find a color combo to inspire your senses in more ways than one!
According to next year's Benjamin Color Pulse, it is these gorgeous home grown colors that are one of the company's main inspirations for 2011.  Stroll through the produce stands to find the shades that catch your eye.  Once you choose your new color palette, you'll be sure to find plenty of affordable brand new paints, fabrics, and accent pieces to match your concept.  Look to well priced modern design stores like CB2, Ikea & West Elm for good deals with style.
Paint One Wall & Make a Statement
If you have white or light colored walls in your kitchen or living room, why not spice things up and make a statement by painting ONE wall with a bold accent color.  Painting an accent wall in either one or both of these rooms is a cheap and an easy chore that you can do yourself in just a couple of hours.  And not to worry…  if your taste changes next year, it's no big deal to update your look with something new…
–Pick the first wall your eye goes to when you walk into the room, prep and paint.  You'll be amazed how one wall can change EVERYTHING!
Brown, White & Out to Pasture
It's not just the colors of the veggie & fruit stand that are in Vogue, but it's everything farm inspired.  From cowhide rugs, pillows or accent chairs, to textured burlap and straw colored throws, the influence of the farm can add texture and a bold twist to any modern design.
The Urban Color Collide
Another IN and striking way to play with color, is to capture a slice of the city and hang it on your wall or fluff on your couch.  Check out CB2 and sites like Clay Wood & Cotton, for affordable artwork and throw pillows that depict city scenes, traffic jams, storefronts and streetlights.  The dark grays and blacks of the city night with the burst of yellow taxis, red neon signs, or muted shades of painted brick buildings, makes for fantastic wall hangings or photo printed pillows.
Pillow Talk
A simple and functional way to add color to your living room is to replace your throw pillows!  You don't need to buy many, you just need to make a statement.  Bright solids and textured rich neutrals can add a dash of excitement to your plain Jane couch.  But we also really love the trend of photo printed throw pillows that showcase cityscapes, silhouettes, or botanicals.
Check out CB2′s series of taxi cab pillows depicting taxis in traffic around the world.  But don't stop there!  Other photo printed pillows can be just as fun.  You may even try printing your own favorite shots of your colorful city or picturesque countryside onto fabric to make your own! Take a peek at Bright Hub for a step by step guide to print your pics onto fabric yourself!
|
Print
Pages: 1 2