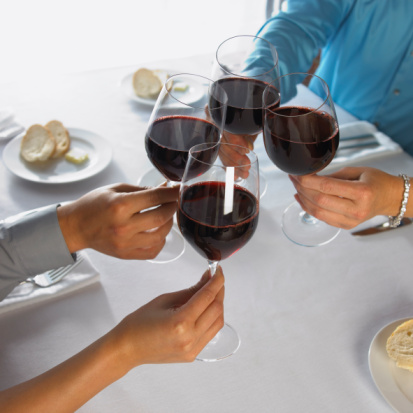 Want to save up to half of your bill the next time you go out to eat? Try a BYOB spot and bringing your own wine or beer. To find good places, try the Zagat dining guide, which has conveniently added "BYOB" to the "special features" section. Additionally, the website Chowhound can also yield results. Some restaurants even have a sign in the window inviting people to bring their own beverages.
Navigating these BYOB joints can be tricky, though, from corkage fees to etiquette rules. Here's the scoop:
1. Transport The Goods.
Remember to chill your white wine, beer, or sparkling wine so it is ready to drink when you arrive. Transport the drink in a bag, preferably an insulated one. Walking in with a naked bottle in a plastic bag is totally tacky. I write my initials on the neck label of white wine as a proactive step—some restaurants use a communal ice bath, and if a fellow guest has brought an identical bottle, I want to protect my investment.
2. What To Bring?
When choosing wine from a list, you have the advantage of selecting wine and food in tandem. Similarly, if the BYO restaurant's menu is online, you can get an idea of what you may be eating. If, however, you're walking in blind, stick with wines that go with everything. Loire Valley Reds and German Spatlese are good catch-all wines. Err on the side of bringing an extra bottle. As long as you direct the staff as to when to open each wine, you can bring home unused bottles.
To read more tips, go to LearnVest!
Follow LearnVest on Twitter @LearnVest! Follow Fab & Fru on Twitter@FabandFrugal!
|
Print