by Stephanie Berenbaum – September 15, 2010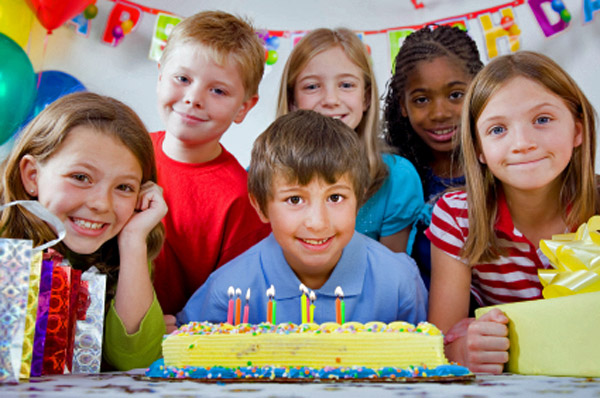 Spend Less on Big Fun for Your Kids
It's that time of year again – actually that time that comes twice a year in my house – I am planning a birthday party for one of my sons.  Living in L.A., it's not uncommon to attend birthday parties for 5 year olds that are way more elaborate than anything I would ever dream of for my 40th celebration .  I must admit – some of these over the top parties are tons of fun — but of course they also cost tons of money!
Savings from the Seventies
I was talking with Kathy the other day about the way our birthday parties used to be as kids – sort of simple, old school and fun — without a lot of funds! Back in the 70s and 80s even my fanciest friends seemed to have very down to earth parties. So Kath and I have resolved to bring the b-day parties of our youth back to the future – in a full on Fab & Fru way!
Living in a Material World
We both have boys who are turning 5, which of course means that they have entered the age of materialism. They want things they see on TV, are hip to merchandising and brands, and are with it enough to have been awed by some of the over the top celebrations they have already attended.
But Kath pioneered our experiment two weeks ago, and the kids had a blast!  I figured if her party was such a success, there was true hope that kids today can still have some good old fashioned fun and that my son's upcoming party can be a Fab & Fru hit too…!
Food For Thought
Instead of catered fabulousness (remember, we're writing this from our experiences in Vegas and LA, respectively – catering for kids parties is not unusual!) Kathy went for simple, crowd pleasing fare.  She made hamburger patties herself  (instead of, as she calls them, 'the cheap, gross pre-made ones'), hotdogs, corn on the cob, lemonade, potato chips and home made cupcakes.  It might seem obvious, but you wouldn't believe some of the pressure out there to serve fancy fare and keep up with Joneses!
99 Cent Store Decor
Kath then blew up some balloons, bought a cheap pinata (you can also easily make one!), filled up her kiddie splashing pool and blew up her own bounce house (not a rented one, but one she bought last year & uses all of the time-for about $150)! That was 'it'. Which is, of course, is a lot – but not a lot of money!
Oh, and speaking of pinatas, if you live in an apartment and just don't have room to do a traditional one, try our take on the "urban pinata' – just hide candy or small grab bag toys around the house and let the kids go on a scavenger hunt for them – what they find they get to keep!
Do Yourself A Favor
In what seems like a bit of kid party heresy, Kath decided to try out NO party favors this year!  Seriously, I am sure we've all been there where you blow a couple hundred bucks on useless little things the kids (or parents) just throw out anyway!  I was wondering if the other moms and kids were horrified, but Kath swears no one even noticed!  After attending one too many extravagant parties (pony rides in the yard, over a hundred 5 years olds at a 4 star hotel, a firetruck that makes pizzas), she hit her limit when, at one party, the hosts gave out full sized Tonka trucks worth $25 …as party favors!
|
Print
Pages: 1 2