by Kathy Pape – September 27, 2010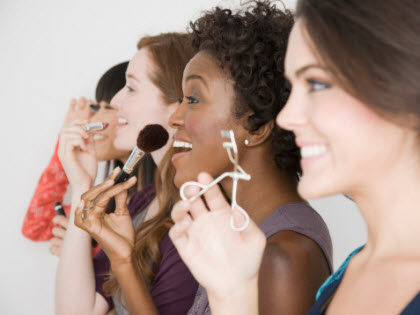 Let Your Face Say It All
Spring is considered the season of new beginnings, but if you've ever read Vogue's September issue, you know fall is the time of year that women re-invent themselves!  Maybe it stems from our training at an early age to start the new school year off with a new look, but I find myself struggling to resist the urge to shop every chance I get- even though my budget screams noway sister!
After wearing the same color eye shadow every day for the past 5-years, I got to thinking- what better way to refresh my style than to focus on beauty!  Even Allure magazine just announced their Best of Beauty 2010!
Let's face it, makeup is one of the most Fab & Fru ways to change your look. Studies show that lipstick sales soar during recessions, and there's nothing like a new eye shadow to brighten your day.  So, this year I'm skipping the expensive boots (or trying to) and heading to the makeup counter instead!
The 80's are Back
Lace is everywhere this fall and it reminds me of Madonna.  So, imagine my surprise when I saw that the Material Girl has just launched a clothing line at Macy's!  Since makeup trends always follow clothing trends, get ready to break out the jelly bracelets and blue eye shadow…
Eyes Shadows– If you can't bring yourself to buy electric blue eye shadow, don't worry- the next best and IN thing is purple.  Purple hues are extremely popular because they compliment brown, blue and green eyes!   I switched from brown to purple last spring and couldn't be happier.
Makeup artists tell us that the brighter the better this season. Vibrant eye shadows in purples, greens and fuchsias can create a dazzling, dramatic effect that reminds us not only of Madonna, but also of the 80's hair bands we loved!   Go bold or more subtle depending on your personal style.
Your local drugstore brands are a great inexpensive way to test out new make-up colors. Also, check out the higher end brand Urban Decay if you want to have a little fun with unusual bright colors.  And E.I.F is a solid online brand that is fantastically affordable if you want to experiment with the trends!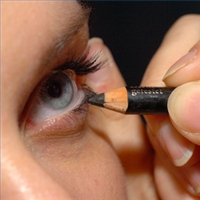 Eyeliner- is also huge this fall!  And according to makeup artist Courtney Hart, the hot look is the grunge eye- think Madonna's eyes in the "Like A Virgin" video. It's meant to look messy and undefined.  This is great news for me because I am horrible at applying eyeliner!
Courtney says to actually line your eyes with a kohl colored pencil and smudge it onto your lid with a small shadow brush. This is a great look with colors like slate grays and medium browns!
Eye Brows –Full, defined bold eyebrows, like Brooke Shields from her Jordache Jeans days, are all the rage this fall.  Just take a look at the brows of Kim Kardashian, Beyonce and Lea Michelle!
I guess this means we can all save money on waxing & threading and just stick to our basic tweezers to keep them groomed? The full brow look is so hip that a new product launched at Saks called Neuveau Brow- which you apply at night to help your brows grow if you've plucked, waxed or threaded them so much they won't grow back.  It's pricey at $100 so consider investing in an eyebrow pencil or brow gel to get a defined look for a lot less!
|
Print
Pages: 1 2