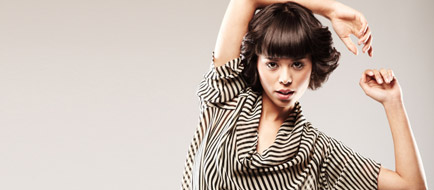 Luckily for those of us on a budget, the big new "it" thing for high-end designers is creating collections for great wallet-friendly stores like H&M and Payless. This is what we were talking about when we tipped you off to Zac Posen's line at Target last year; "diffusion lines" offer far less expensive clothing from designers who usually charge hundreds to thousands for their looks. This year we're looking out for Lanvin, Tucker, Christian Siriano, and Mulberry.
Here are four lines we're looking forward to this fall, hot off the presses:
1. Lanvin For H&M.
This collaboration is the biggest thing to hit megabrand H&M since their collaboration with Chanel's Karl Lagerfeld. The much anticipated collection, which has been teased via viral videos on H&M's website, will be made public on November 2 and will be available in 200 stores on November 23. The collection will include men's and women's clothing, designed by industry-adored Alber Elbaz, Lanvin's artistic director, and menswear designer Lucas Ossendrijver. The collection is sure to have a luxurious French look, keeping Lanvin true to its roots. Be prepared to line up in advance for this one.
2. Mulberry For Target.
British handbag favorite Mulberry is merging its classic bag silhouette with fun fabrics and colors for its new line for Target. The collection, which previewed on GiltGroup in August, consists of five pieces all priced under $50. The bags are available in black patent leather and a navy patent/quilted denim mix. They include cross body and satchel styles in various sizes. The collection will be available in Target stores and on Target.com in early October.
To read more tips, go to LearnVest!
Follow LearnVest on Twitter @LearnVest! Follow Fab & Fru on Twitter@FabandFrugal!
|
Print